2020 Inaugural Busy Bees Excellence Awards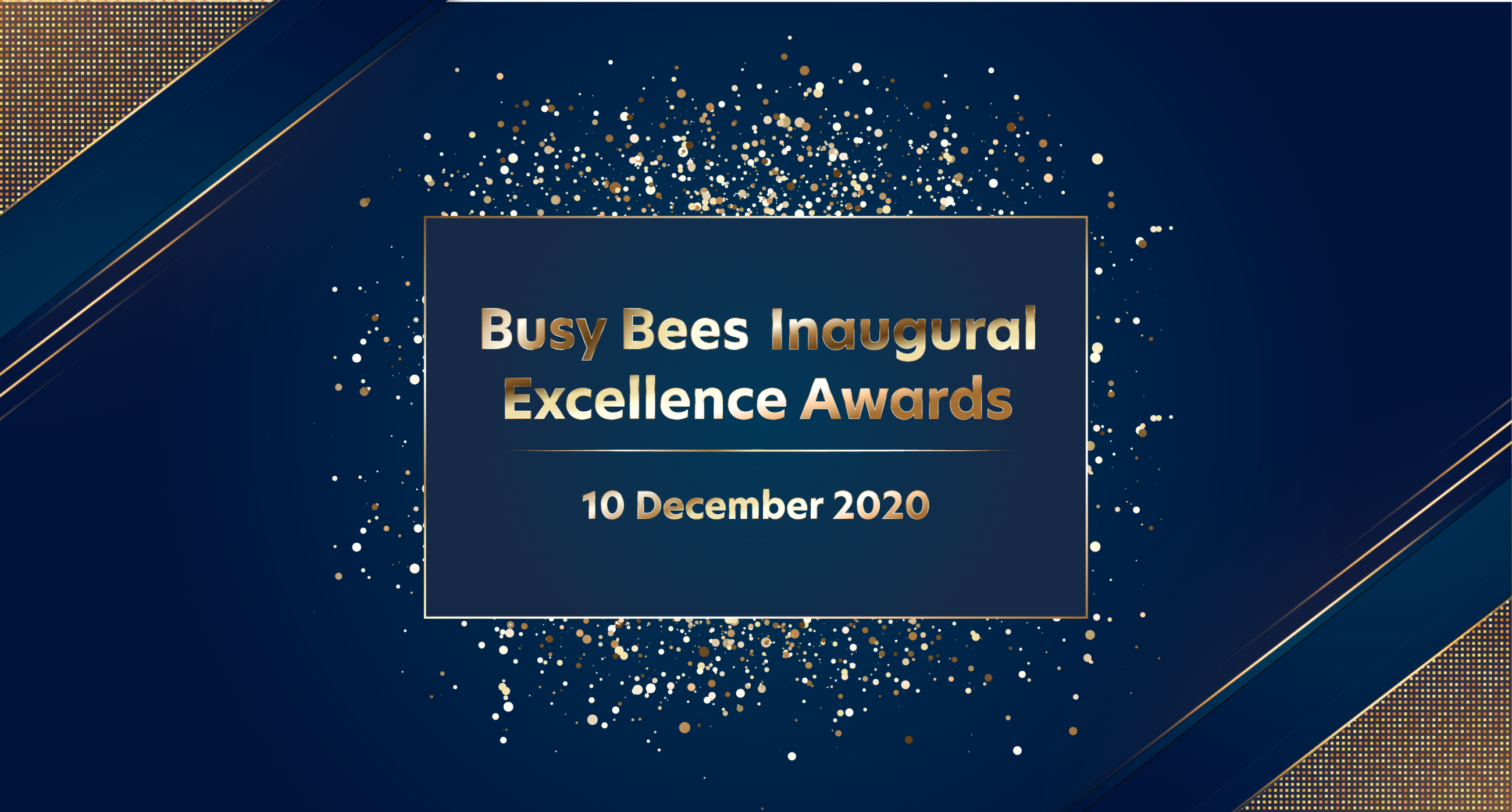 We're excited to announce that the Inaugural Busy Bees Excellence Awards will be held on Thursday 10 December 2020.
These awards will be held virtually with all our Busy Bees Services Australia-wide, and are a time to celebrate and acknowledge our Busy Bees Educators, people and communities who have gone above and beyond in 2020 to give every child the best start in life.
There will be 13 Award Categories to be presented on the evening that will highlight the standards of excellence within Busy Bees Australia, with nine of these categories being judged on submissions from the wider Busy Bees community.
Awards Categories

Sponsored by WYSCOM
Our Service Managers are pivotal in ensuring high-quality Early Childhood Education and Care is being provided by a Service for the children, their Families and the community it serves. They are fundamental in building a safe, professional and positive Service culture, ensuring open communication, strong Family connections, providing high standards of care, well-being, learning and governance.

Sponsored by KindyNow
Our Area Managers are instrumental in the overall performance and success of a Busy Bees Service. They provide a seamless link between business and care, supporting the delivery of high quality Early Childhood Education. Our Area Managers provide excellent service for the children, their Families and the communities through coaching, leading and supporting the Service teams in their Area.

Sponsored by ChildcareCRM
Our NSC support teams are some of the key contributors of the business and are integral to the successful delivery of key business outcomes. Offering expertise, guidance and assistance across core business functions, the NSC Employee of the Year Award recognises the commitment, quality and service offered to the business by NSC personnel; enabling Busy Bees to experience continued growth and success.

Sponsored by Modern Teaching Aids
Our Early Childhood Educators are fundamental in supporting children's well-being, learning and development. Our Early Childhood Educators demonstrate a commitment to shaping the lives of children and setting them up for lifelong learning. They play an important role in planning and implementing developmental programs based on observations of individual children and build positive and supportive relationships with children and their families.

Our Early Childhood Teachers are important to providing high-quality early childhood education and care. We know that research based evidence attributes to high-quality early childhood settings, which nurture children's development with learning outcomes in the early years. Our Early Childhood Teachers centre their practice around the child and work together to supporting children's development from early childhood through to school.

Our Chefs are integral to supporting children's health and well-being in a Service environment, by preparing healthy and nutritionally balanced meals that provide children with the energy and focus to play and learn. Our Busy Bees Chefs are passionate about providing the very best nutrition for all children to promote healthy minds and bodies.

The Most Sustainable Service Award is presented to the Busy Bees Service that has adopted creative and innovative environmentally sustainable practices. Leading the way in teaching children about a sustainable future and enhancing children's interests in creating environmental choices, this award recognises Services that foster skills and passion to make a positive difference to the environment and world around them.

The Building Social Inclusion Award is presented to the Busy Bees Service that goes above and beyond to promote a culture of inclusion, respect and appreciation of diversity within their Service community and Families. Social inclusion ensures that all children can participate meaningfully in their learning, and that all Families feel welcomed, respected and valued.

The Busy Bees Family Choice Award is prestigious because it is chosen by our Families. Our children are the heart of our business and their learning journey is supported by a partnership between both Busy Bees Educators, Teachers and Families. This award recognises and rewards excellence to the Service that demonstrates true value, commitment and support to Families in encouraging their child's development, creating memorable experiences and offering support to help give their child the best start in life.

The Highest Performing Centre Award is awarded to the Service who has demonstrated efficiency across three key selection criteria determined by the Busy Bees Awards Selection Committee.

Sponsored by EDGE Digital Marketing
The Busy Bees Social Media Champion of the Year Award recognises the Service who sets the benchmark for maintaining an active, relevant, on-brand and engaging social media presence through their Service Facebook Group. Offering exciting and unique content, photography and updates that connects, inspires and informs Families while contributing towards strengthening the Busy Bees Australia brand.

The Innovation Award recognises the Busy Bees Service who has worked the most collaboratively, to encourage creativity and innovation within an Early Learning setting. The Innovation Award winner embodies the core values of Busy Bees, by delivering innovative experiences to improve children's learning and imagination.

The Highest Standards in Quality Award aims to acknowledge the Busy Bees Service that has achieved the highest standards in delivering the National Quality Standards. It is highly prestigious and is quantified by ACECQA data. The winner of this award would be deemed to be our highest performing Service in terms of quality education and care.
A big thank you to our generous sponsors: