What is NAIDOC Week?
NAIDOC Week celebrations are held across Australia each July to celebrate the history, culture and achievements of Aboriginal and Torres Strait Islander peoples. NAIDOC is celebrated not only in Indigenous communities, but by Australians from all walks of life. The week is a great opportunity to participate in a range of activities and to support your local Aboriginal and Torres Strait Islander community. NAIDOC originally stood for "National Aborigines and Islanders Day Observance Committee."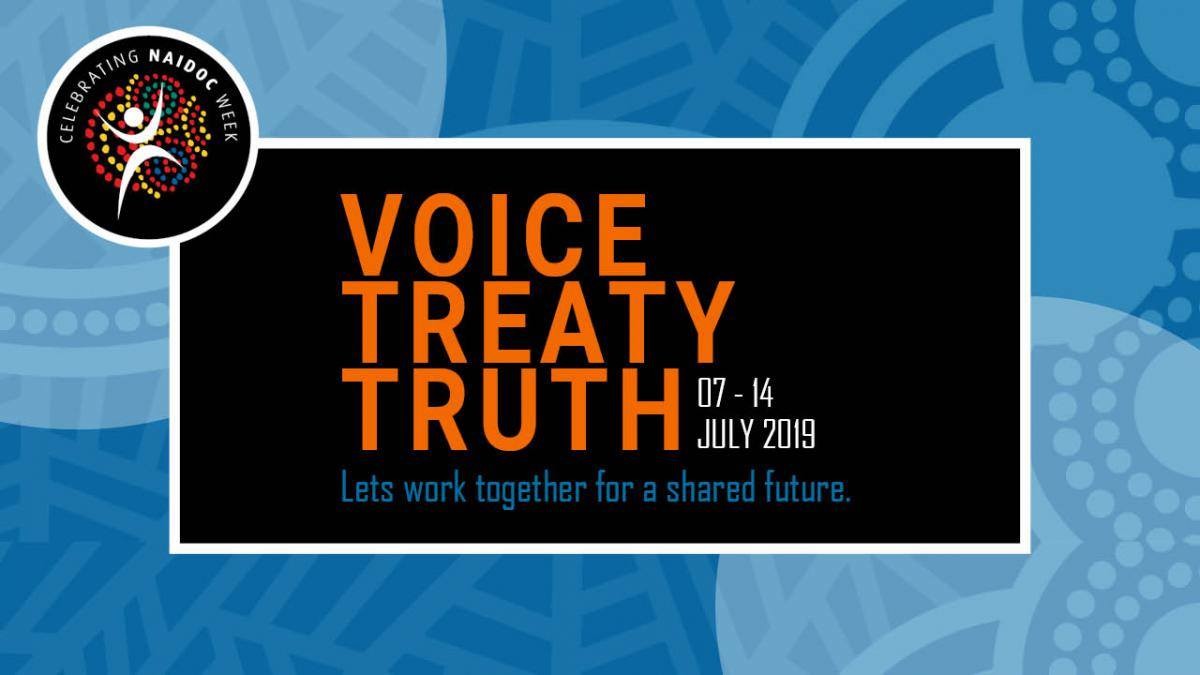 The 2019 theme is VOICE. TREATY. TRUTH. For more information on this year's theme visit: https://www.naidoc.org.au/get-involved/2019-theme
Busy Bees at Cameron Park Get Involved
During NAIDOC week, the children at our Busy Bees at Cameron Park Service took part in a whole range of exciting and educational experiences that extended their learning around Indigenous culture and the importance of NAIDOC week.
The crafty Explorers worked collaboratively to build a Humpy using a recycled box, paint and sticks found around their local community . A Humpy, also known as a Gunyah, Wurley, Wurly or Wurlie, is a small, temporary shelter, traditionally used by Australian Aboriginals. They are sometimes called a "lean-to", since they often rely on a standing tree for support.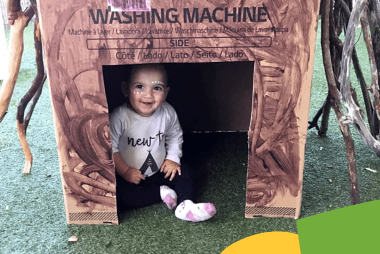 Then, the Explorers, Discoverers and Adventurers participated in a collaborative art project using a combination of hand prints and dot painting outlining a Kangaroo and Emu, which they learned about in the Dreamtime stories  'How the Kangaroos got their Tails', 'What made Tiddalik Laugh' and "My Lost Mob."
The children also engaged in traditional face painting with Educator Kelly, who identifies as Aboriginal. Kelly taught the children how Aboriginal body art is an important aspect of religious rites and ceremonies and has deep spiritual significance for Indigenous peoples. The children learned that when combined with Aboriginal dances during significant ceremonies, body art denotes the tribal people's relationship with the environment, the animals, their ancestors, the land, and with nature as a whole.
The children in the Adventurers room were inspired to incorporate natural materials into their sensory play dough experience using sticks, leaves and seeds. As well as engaging in Emu footprint stamping inspired by the book "My Lost Mob."
The Investigators worked on some collaborative art pieces using recycled pieces of wood. Together, the children researched traditional Aboriginal art to gain inspiration on how to approach their art experience. Using various coloured paints and a spray bottle, the children created unique pieces showing their hand prints.
The Collaborators engaged in a creative experience using bark and traditional colours. Aboriginal bark painting is a practice that goes back thousands of years. They were originally practiced by Australian Aboriginals on the interior part of a tree, just below a stripped bark. Bark paintings were typically used for ceremonial purposes and is still being used today in some areas such as Arnhem Land. Aboriginal bark painting served the same purpose as books of today. Aborigines used it for instructional and storytelling goals. The paintings which can be drawn using different mediums show aspects of the aboriginal life. They tell stories typically told to children during the wet season. Most paintings carry the sign of the clan, essentially naming the people responsible for the art.
Finally, all the children from the Investigators, Collaborators, Researchers and Foundations rooms received a very special visit from Aboriginal Elder Steve who came to share some Dreamtime stories in the sandpit. Steve used the sandpit as all the children gathered around to tell the dreamtime story of the 'Rainbow Serpent' who came from the creator God 'Baiame'. He showed in the sand how the snake moved through the earth and by doing so naturally made mountains either side of him and a long gully from where his body moved along the ground. As the rain fell the gully filled with water and there became the rivers and mountains.
"It make rivers" – Byron
"Is the snake fast?" – Elke
"Did it make the trees?" – Maddie B