Busy Bees at Pimpama (Queensland) is the newest addition to the Busy Bees Hive and the local community was thrilled to celebrate its grand opening on Monday, 8 May 2023. It's been heartwarming to see the new purpose-built childcare centre welcoming families and staff as they settle into their new home away from home, embarking to give every child the best start in life.
Located centrally within the Pimpama community, the brand-new centre is buzzing, welcoming new families to our Hive.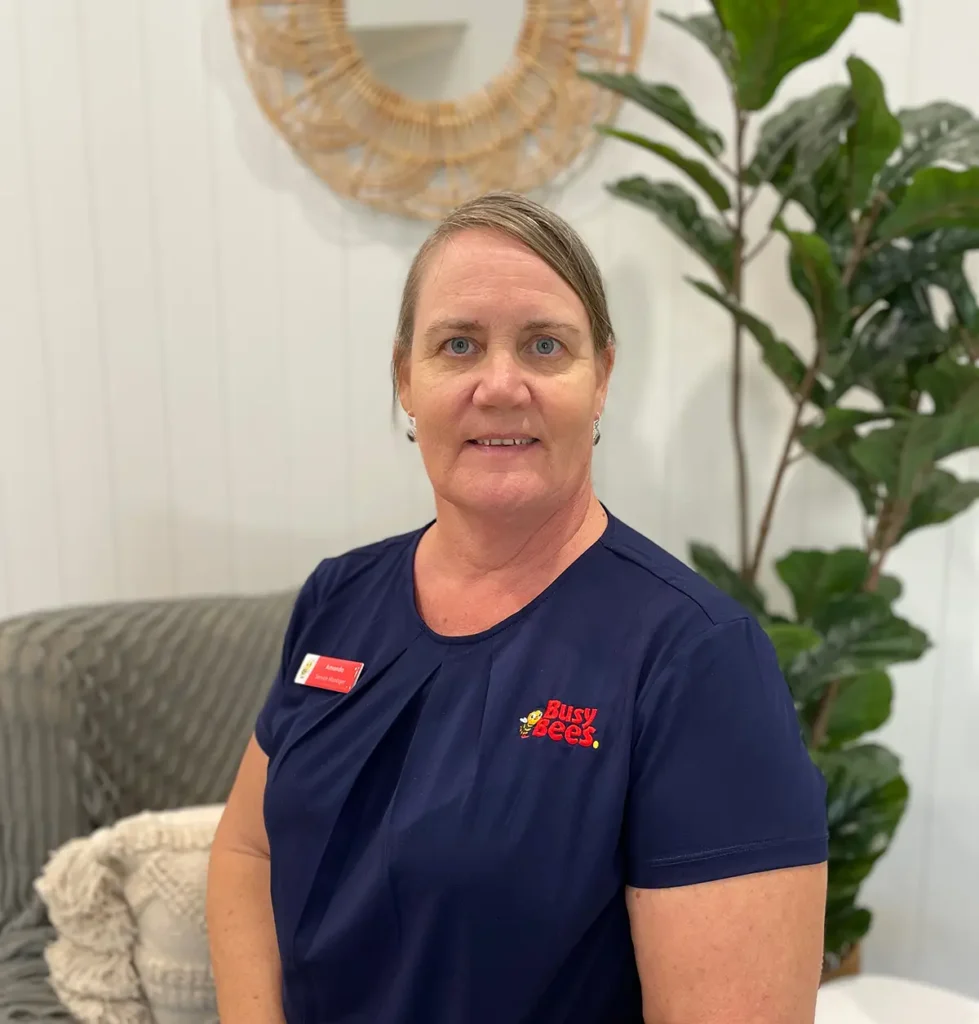 "I take great pride in welcoming all our families to our centre whilst getting to know them, acknowledging that they, as parents, are their child's first teachers," said Mandy Morby, Centre Director.
Mandy holds a Diploma in Early Childhood Education and Care with over 10 years of experience in the early learning industry and a passion for childhood development. "I believe that the first five years of a child's life are so important. They are the very foundation that shapes our children's future health, happiness, growth, development and learning achievement at school, at home and community, as well as life in general."
Mandy is supported by a strong and diverse team of Educators, who together, are implementing a rich experience for the children. The team can support non-English speaking families, thanks to Educators' different backgrounds, bringing fluent Mandarin and Hindi to the centre as well as a wealth of different cultures.
"The Early Years Learning Framework highlights the importance of collaboration with our families and our community to support our children's learning and development. By acknowledging and respecting diverse perspectives, our Educators can create meaningful connections with our families whilst involving them in their child's learning journey here at Busy Bees," said Mandy.
"Having such diversity in an early learning centre is amazing! It allows everyone to feel valued and accepted, thus creating a cohesive and respectful partnership. It allows for a great working environment and teaching and learning experiences," said Shaireen, Educator.
With six different learning spaces and a wonderful team of qualified and passionate Educators, Busy Bees at Pimpama can offer care to up to 108 children from six weeks to five years old. Everything has been built with the children in mind with enhanced environments that support the learning and development of the children.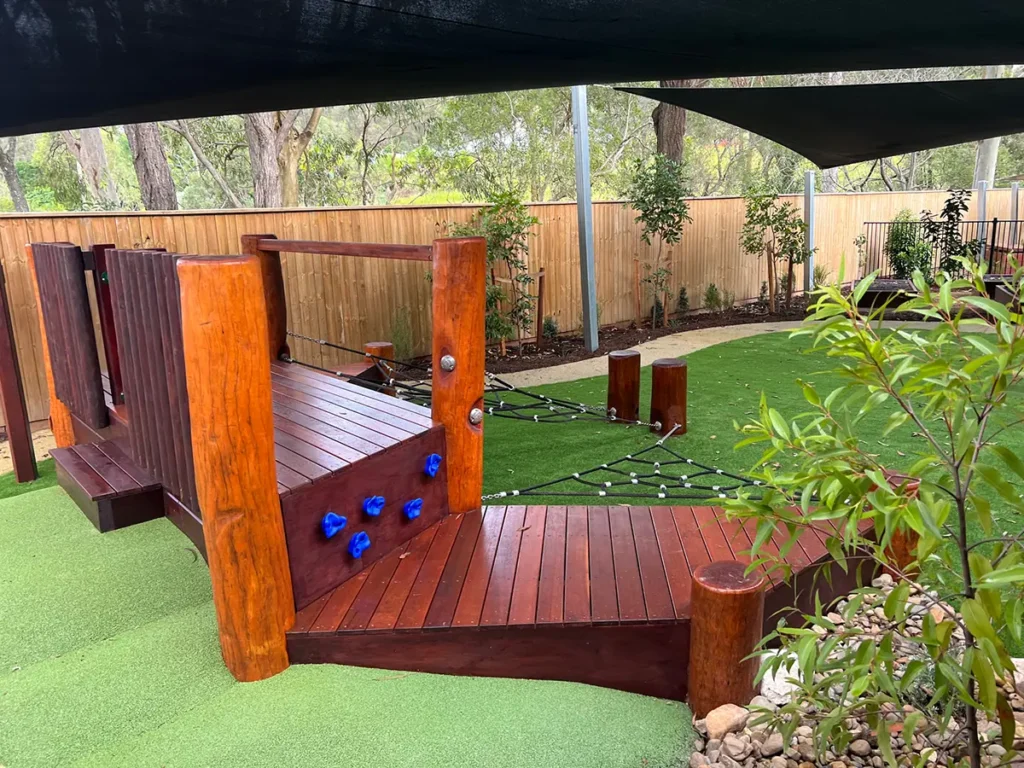 "The indoor and outdoor spaces have been thoughtfully designed and implemented by architects and the Busy Bees team to provide unique and safe environments encouraging endless opportunities to explore, learn and grow. The outdoor playgrounds at Busy Bees at Pimpama lend to the area, with consideration given to the natural environments of large leafy trees in a quiet area north of the Gold Coast," said Leigh Diplock, Projects and Procurements Manager.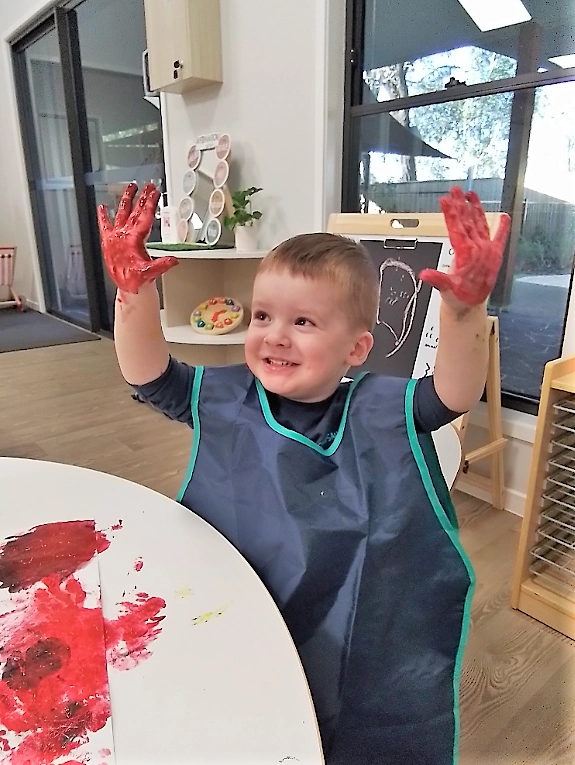 We caught up with Mandy to discuss in more detail what she values most about being the Centre Director for Busy Bees at Pimpama.
What do you find most rewarding about working as a Centre Director at Busy Bees at Pimpama?
Busy Bees has a strong emphasis on providing a nurturing and stimulating environment for our children's development. With a focus on high standards, Busy Bees ensures teams are well-trained and qualified to deliver exceptional care and reflection. This is my own personal philosophy and feel that the two align extremely well. I, like Busy Bees, strive to maintain strong partnerships with families, recognising the importance of collaboration in supporting children's holistic development.
How do you know when you have had a positive impact on a child's learning or development?
I engage with children through play or conversations daily and through this I can understand about whether they are enthusiastic about their learning. Through using open-ended questions, I can discover what they have learnt in their own words. Likewise, parent feedback can offer me valuable information about their child, their family structure and the impact we are all making. Through this positive feedback and active participation, I know that together, the team and myself are making a positive impact on the child.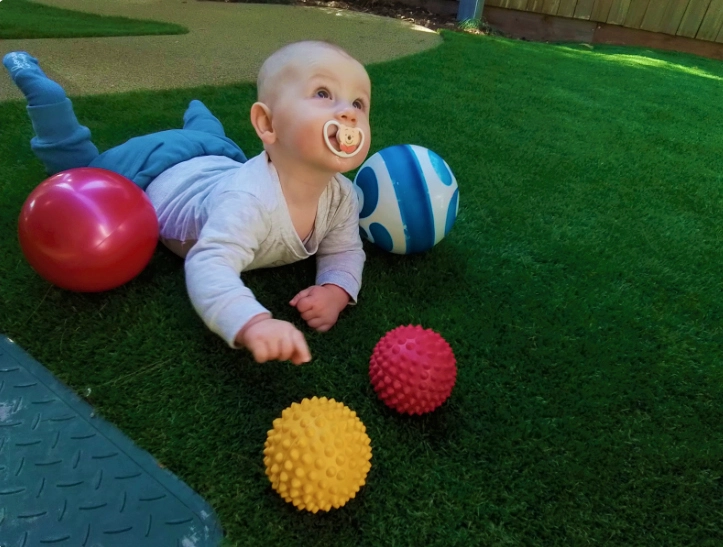 What is the most valuable thing you've learned from the children you work with?
The curiosity and wonder in everything that they do. Our children possess a natural curiosity about the world around them. They ask questions, explore new ideas and approach life with a sense of wonder. This often serves as a reminder for me to maintain a curious mindset and appreciate the beauty in all our everyday experiences.  I always remember somebody telling me when I first started in childcare "You will learn something from the children in your care each and every day". Children find joy in the simple things and embrace a playful spirit. They remind us, as adults to infuse our lives with moments of fun, laughter and light-heartedness which then in turn helps to reduce stress and promote overall well-being.
What makes Busy Bees at Pimpama so special? It can be incredibly rewarding to witness the progress and growth of all the children in this care environment knowing that the team and I have played a role in their educational and social development. At Busy Bees, we ensure the well-being and safety of the little people in our care and our new centre in Pimpama has been built to provide a secure and nurturing environment for our children to learn, grow and explore! As a team we love building meaningful relationships not only with the children but also with families and extended families and we look forward to welcoming more families to our Hive!
Discover the Busy Bees difference…
Experienced, qualified and professional Educators… we're here for your child's every need
Emotional and social development programs… your child will Bee more than ready for school
Beautiful indoor and outdoor activity and learning environments… we nurture your child's sense of adventure, curiosity and wonder
Best-practice, sector-leading safeguarding and safety… you have peace of mind while your child had the best start in life!
Busy Bees welcomes your family to tour every day of the year. Find your nearest centre and give us a Buzz or book a tour online.
Are you an education superhero looking to inspire the next generation of lifelong learners? Whether you're an experienced Educator or looking to start or change your career, we'd love to talk to you about joining our Hive.