Busy Bees is committed to protecting our environment to ensure a sustainable future for our children. Sustainable practice is encouraged within all Busy Bees Services through educating and making all children, families and staff aware about the importance of being environmentally responsible within our everyday practice, assisting them to become advocates for a sustainable future.
Busy Bees at Panania was recently awarded the Most Sustainable Service Award at the inaugural Busy Bees Excellence Awards held in December 2020.  The Service has adopted environmentally sustainable practices throughout the everyday running of the Service allowing the children who attend to see, hear and become more aware of creating environmental choices that foster skills and passion to make a positive difference to the environment and the world around them from a young age.
Service Manager, Sharon Harb has previous experience in sustainability and is extremely passionate about knowledge sharing sustainable practices with her Busy Bees at Panania family. She believes that while it is important to promote and engage in special days throughout the year such as Clean Up Australia Day, Earth Hour and Recycling Week, it is in fact the embedding of sustainability practices on a day-to-day basis that creates the long term awareness, engagement and passion for making positive change and fostering accountability.
Some of the essential day-to-day environmentally responsible practices Sharon has implemented at the Service include:
Recycling: use of recycled water for watering gardens, use of recycled materials for experiences and displays around the Service, communal library.
Gardening: established worm farm, collecting food scraps, replanting gardens, indoor plants
Energy Conservation: Turn off lighting when not in use, fresh air for ventilation and for laundry drying, sensor lights in bathrooms and storerooms.
Water Conservation: Turn off water when not in use.
Nature and wildlife: Educate children about the natural decomposition cycle through exposure and participation in worm farms and composting food scraps including how the worm farm works and operates.
Communication: Share the Service sustainability plan with staff, families and children to gather input and support.
We asked Sharon the following questions to further discuss her approach and views on sustainability at Busy Bees at Panania.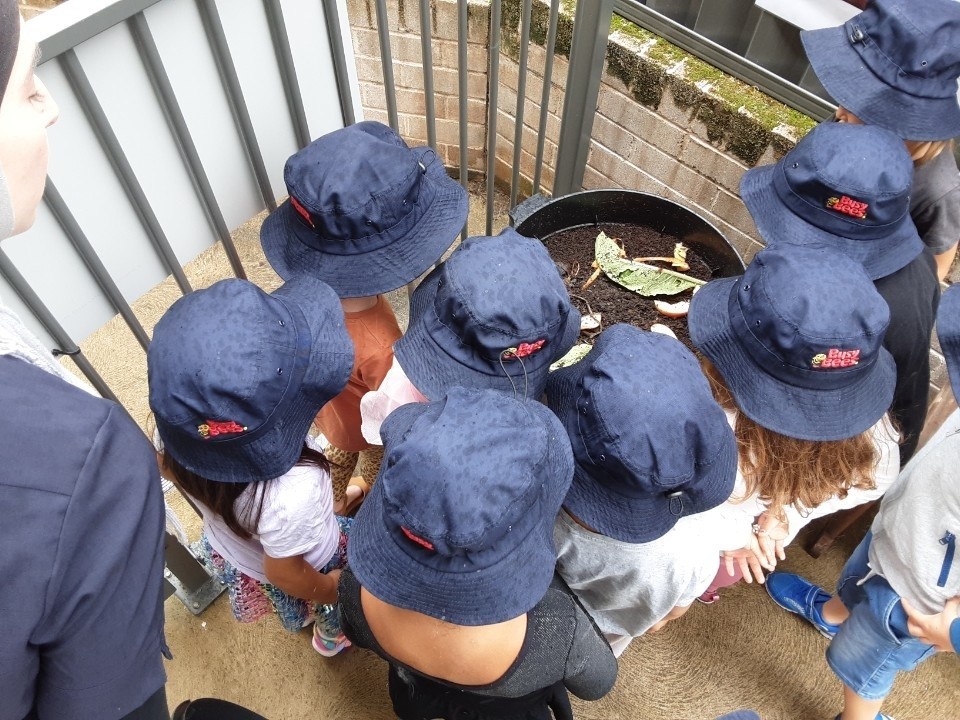 Photo: the children at Busy Bees at Panania help to maintain the worm farm
Why is sustainability important to Busy Bees at Panania?
Sustainability is a shared vision among educators, families and children at Busy Bees at Panania. Sustainability education enables educators and children to promote a sense of responsibility, show respect for the natural environment, be active participants and bring about enquiry and social change.
How do the children get involved with sustainability practices at your Service?
We start with discussing and sharing our vision on a sustainable practice with the children. We then investigate with the children what we will be doing to gather interest and incorporate these ideas in Programming and Planning. We then engage Families by asking them to talk to their children about the different sustainability provocations their children are already part of.
Why do you think it is important to get children involved in sustainability from an early age?
Practicing sustainability empowers children to construct knowledge, explore values and develop an appreciation of the environment and its relationship to their worlds. This lays the foundation for an environmentally responsible adulthood, it also establishes sustainable practices to then become embedded in everyday living and to become the norm.
What advice would you offer to other schools or Services who are wanting to hero sustainability practices but don't know how to start?
Have a plan and vision of what you would like to do at the Service and then discuss this with your team and families to get their support.
Investigate what skills your team have in relation to sustainability.
Investigate what skills your families have in relation to sustainability.
Start with small projects.
Each Busy Bees Service has created their own Busy Bees Environmental Commitment Statement to ensure that as a whole, Busy Bees is working toward providing an environment that is cleaner and healthier for all our stakeholders while supporting sustainability. To find out more about how Busy Bees supports the environment, contact your nearest Service.