At Busy Bees, our people are passionate about delivering early years education which empowers and inspires children to find their unique voice and create their own futures. We are passionate about giving every child the best start in life and today we acknowledge and celebrate one of the dedicated and outstanding education leaders in our Hive, Tarah McGowan.
Tarah has been an Early Childhood Teacher at Busy Bees at Moreton Bay (Queensland) for more than nine years, growing into an incredible leader in her field. Tarah's career achievements and progression is a great example and inspiration for so many others.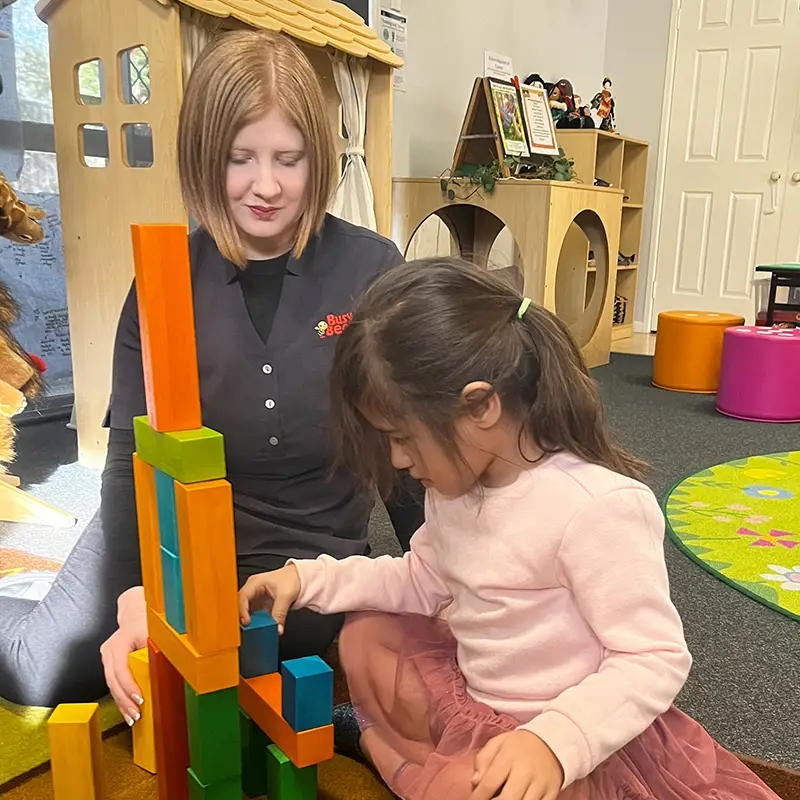 Why did you decide to become an Early Childhood Teacher?
"I started as a cleaner (at the Service) when I was 16 years old. Every day after school I would go to the Service and work from 4:15pm to 6:15pm, making sure everything was clean and well-presented for the children coming back the next day. At the age of 18, I decided to go to university to study for a Bachelor of Education and was then able to do relief work and holiday work at the Service working with the children. I then completed a bridging course to be an Early Childhood Teacher while working full-time. I studied very hard to become an Early Childhood Teacher because play is the way!"
Tarah has been working at Busy Bees at Moreton Bay for 22 years and has developed lasting relationships with the children and families. Over the past nine years working full-time as an Early Childhood Teacher, Tara has created beautiful learning environments for thousands of children.
How do you create engaging learning environments?
"I believe in creating aesthetically pleasing environments for children that are mostly wooden with very minimal plastic materials. There are also calm spaces that are quiet and cosy for the children when their emotions are too big for them. I encourage children to choose what they want to do, either in the learning spaces or at the tables. I encourage them to treat the toys carefully and place them in their homes after play. The children enjoy sitting down on the couch with books and sometimes they like organising toys for dramatic play as teachers."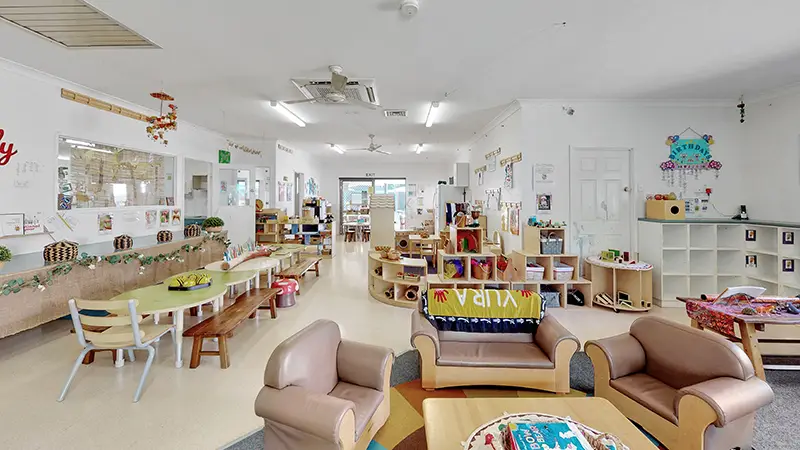 Dramatic play is a popular form of play-based learning. The children like to take on roles and act them out as a way of exploring themselves and their surroundings.
"As Lev S. Vygotsky says: Play is an important vehicle for developing self-regulation as well as promoting language, cognition, and social competence." (Lev S. Vygotsky was a psychologist specialising in children's learning).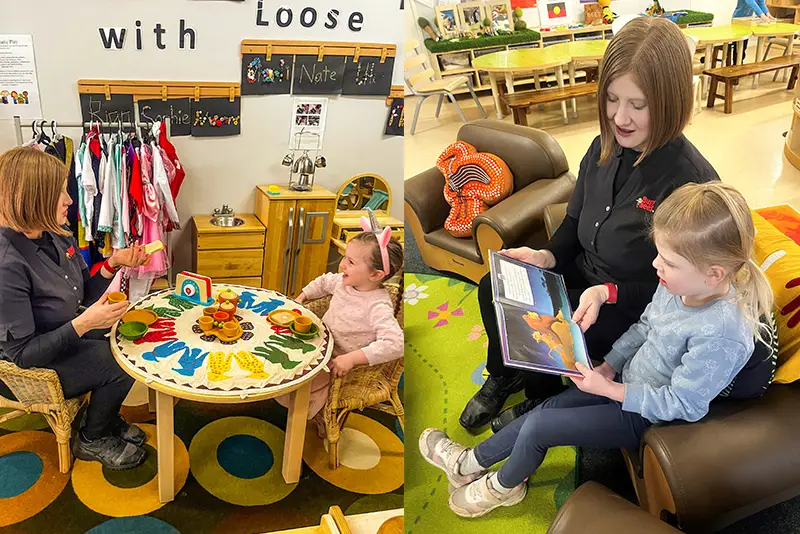 What are the benefits of dramatic play?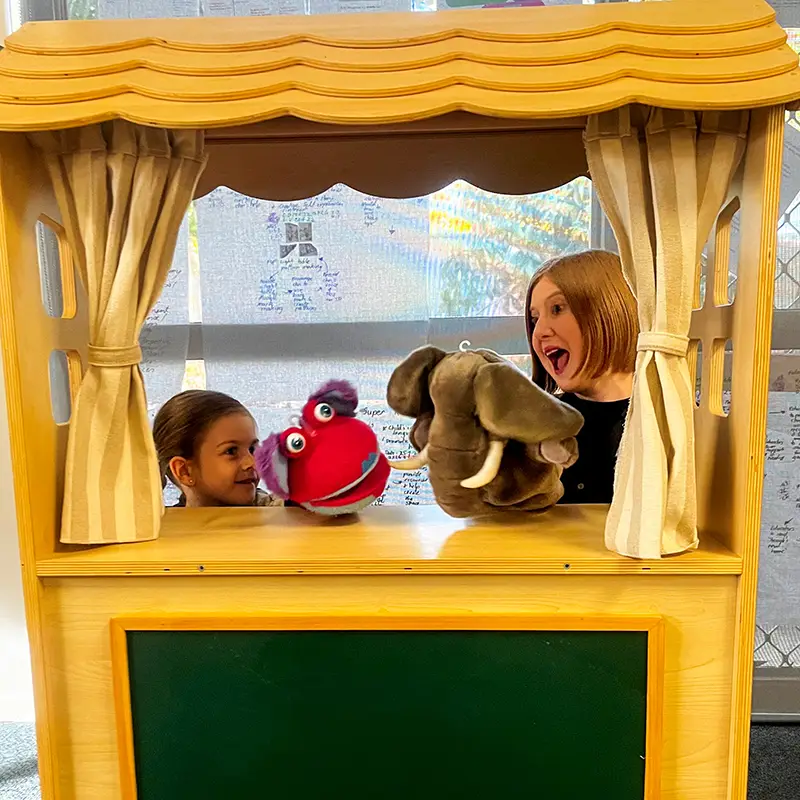 "Through dramatic play, children develop early language skills, cooperation skills, fine moto skills and the ability to express themselves, their interests and the world around them. I created several dramatic play spaces in the rooms including a home corner and a puppet theatre—the children love engaging with the different spaces!"
How do children engage with the Art Studio?
"We are very lucky to have a beautiful and well-equipped art studio at Busy Bees at Moreton Bay. The art studio encourages children to be independent and to use their self-help skills. They can choose what art medium they want to work with and organise the resources that they need for creative self-expression."
Tarah thoughtfully curated the Art Studio to entice wonder, imagination, creativity and play. The physical environments that she creates are always inspiring and ignite the children's curiosity and sense of discovery.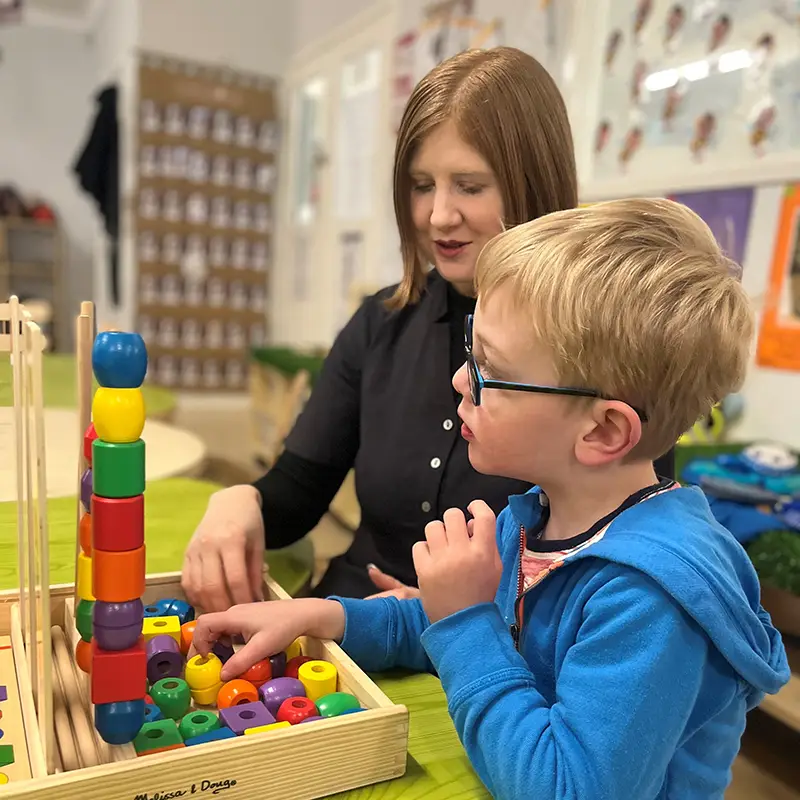 "The use of fine manipulatives and larger manipulatives like Duplo and Mobilo are another very popular learning experience with the children. They enjoy creating constructions and placing them on a shelf. We then see them returning to their construction to add or continue to play with the construction. As Early Childhood Theorists Loris Malaguzzi says: The wider the range of possibilities we offer children the more intense will be their motivations and the richer their experiences."
We invite you to find out more about Busy Bees at Moreton Bay (Manly West) or booking a tour where you can meet Service Manager Michelle Bullivant and the wonderful team of Early Childhood Teachers and Educators that Busy Bees at Moreton Bay is so loved for.
Are you an education superhero looking to inspire the next generation of lifelong learners? Whether you're an experienced Educator or looking to start or change your career, we'd love to talk to you about joining our Hive.