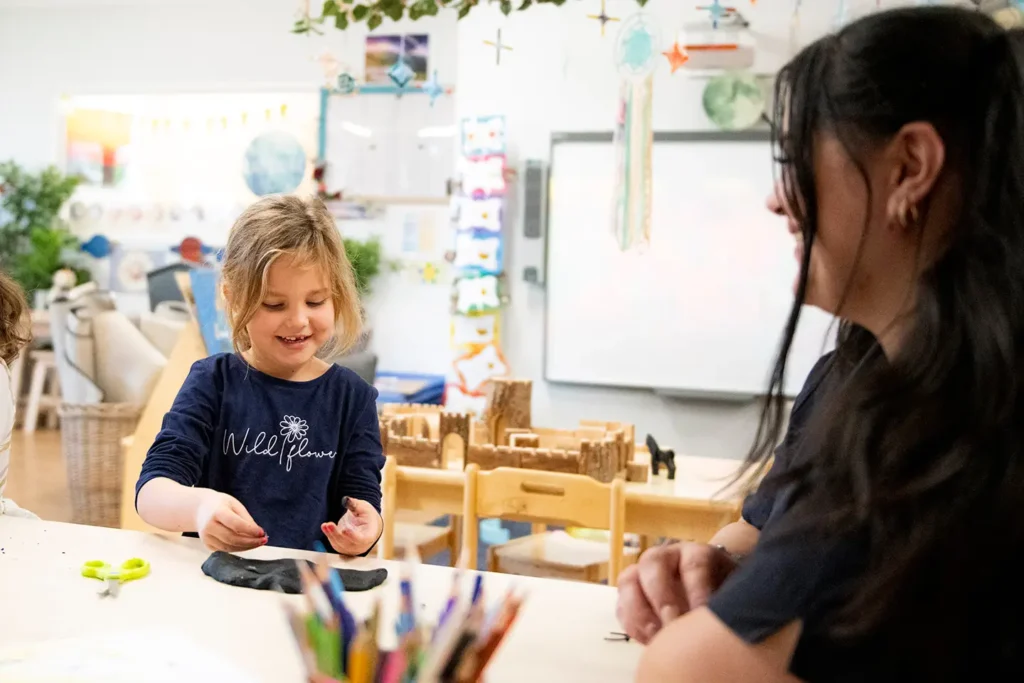 The year before school is a huge milestone in a child's learning journey as they begin the transition into a structured routine and a more formal learning environment. Choosing the right Kindergarten is essential to ensure that your child develops a love for learning and feels comfortable in an academic environment.
"Kindergarten is the foundation of a child's formal learning. With the skills the children learn in kindergarten, they can seamlessly transition into the school environment and then into life. It is important to remember that every day we have an opportunity to make a positive difference in a child's life," states Lorraine Maree Ives, Early Childhood Teacher.
Lorraine joined the team at Busy Bees at Warner (Queensland) in 2011 and has since seen many children grow and develop throughout the years. She loves seeing children develop their confidence and literacy skills, "We get to see the children learn how to write their name and sometimes even sound out a few words. It's very exciting!".
At Busy Bees, our Early Childhood Teachers are passionate about delivering early years education that empowers and inspires children! Along with their team of expert Educators, they focus on building the children's confidence and independence. Children learn in a play-based program that includes intentional teaching, environments that are rich and meaningful, and routines that are flexible with minimal transitions to ensure that children's learning is interrupted as little as possible. We recently caught up with Lorraine to discuss her passion for early childhood education.
Why did you become an Early Childhood Teacher?
"I have always been interested in children from a young age. I am the oldest of five children in my family and have always shown a nurturing nature. My mother, grandmother and aunty were all teachers so for me there wasn't anything else I wanted to be when I grew up, but a teacher."
What are your main responsibilities as an Early Childhood Teacher?
"First and foremost, my responsibility is to the children. To provide them with an educational program that meets curriculum requirements and is tailored to the children to extend their learning to new heights. I pride myself on having a program that is inclusive and accessible to all children."
How do you work with families to prepare children for their transition to school?
"It takes a village to raise a child. This is the way I work with families to prepare the children for school, and I also acknowledge them as the children's first teacher. We do this through formal interviews, daily conversations, advising on child development, and observations. We believe that early intervention is the key, and we try to help our families as best we can. To be able to do this we pride ourselves on knowing each child individually."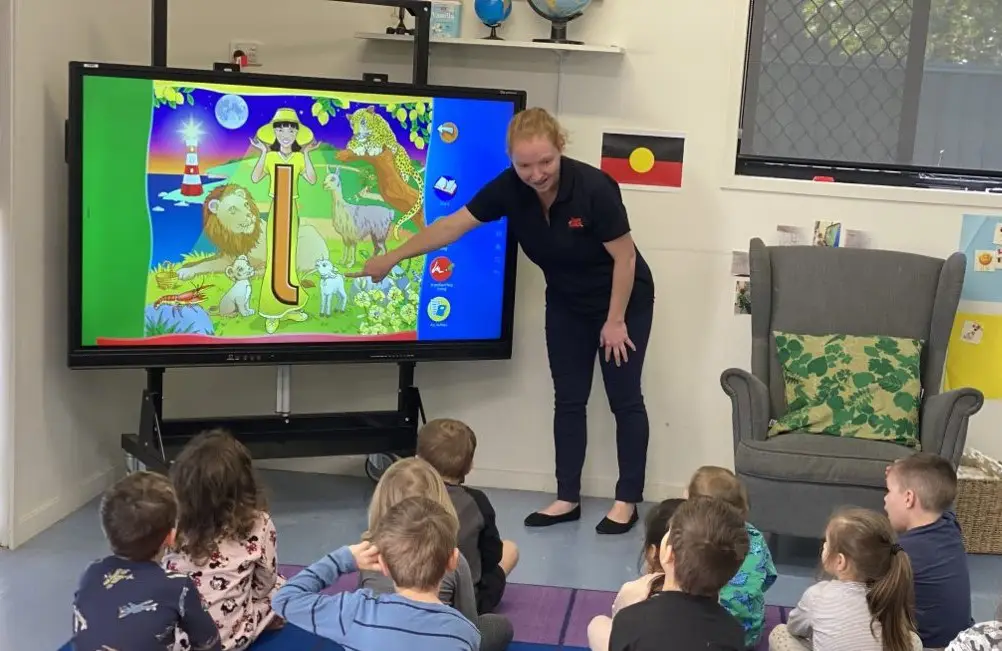 "We like to work with the children in small groups to provide them with focused quality learning times. In Kindergarten, we provide a mix of play-based and structured learning times to get the children ready for Prep. We have an interactive whiteboard which helps us to facilitate our phonics/literacy program for the children. We collaborate with the local schools to ensure the children are ready for that next big step and the school Teachers visit the Kindergarten children regularly to check in on their learning."
What is the most valuable thing you have learnt from the children you work with?
"Never underestimate the abilities of a child. They will always surprise you! That you don't only make a difference in a child's life, but they leave an impact on you too!"
Early Childhood Teachers develop a stimulating, child-led program that ensures children are socially and emotionally ready for the next step of their learning journey. Through children's active engagement in their environment, with their Educators and their peers, they develop key learning dispositions such as perseverance, problem-solving, courage, curiosity, co-operation, commitment, creativity, enthusiasm, and reflexivity. "The development of these learning dispositions creates lifelong learners," says Lorraine.
Experience an amazing play-based curriculum led by highly qualified Teachers that support your child to get set for school
Never stress again about the 3pm pick-up — our extended hours give you the freedom to drop off and pick up when it works for you
Say goodbye to the lunch box dramas! Our dedicated Chefs prepare delicious and nutritious meals for healthy minds and bodies
A more settled experience — avoid the juggle between multiple care providers so your little one has more time to focus on learning
Building friendships for school — our wonderful community of families will help make sure your child has some friendly faces as they start school
Learn more about Kindergarten at Busy Bees. Busy Bees welcomes your family to tour every day of the year, find your nearest centre and give us a Buzz or book a tour online.
Are you an education superhero looking to inspire the next generation of lifelong learners? Whether you're an experienced Educator or looking to start or change your career, we'd love to talk to you about joining our Hive.