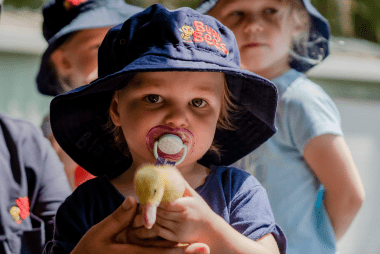 Image: Follyfoot Farm by Busy Bees
"The animal is a conduit for learning to be human: some propose that it is only through the animal that we recognise our humanity" – Jill Bone (2013)
Research shows that humans have an innate biological connection with animals, and a natural instinct to nurture and care for other living things. This affinity for the natural world is so apparent when we observe children's excitement about animals and their strong desire to interact with them. The bonds that children form with pets, and their fascination with all things related to nature can present an important opportunity to develop important life skills.
A growing body of research shows that children who are supported in their love for animals also tend to extend this love and care to other living things, such as plants and insects. Research also shows that children with a strong affinity for animals also tend to be kinder, more empathetic and sensitive towards other people.
Contemporary thinkers such as Bone (2013) consider the animal as the "fourth teacher" in early childhood development, acknowledging the importance of caring for and simply being with animals in developing children's sense of empathy, responsibility and belonging within their world. Being responsible for the care of an animal helps children develop these skills, while also teaching them about nature, ecology and the importance of caring for the environment.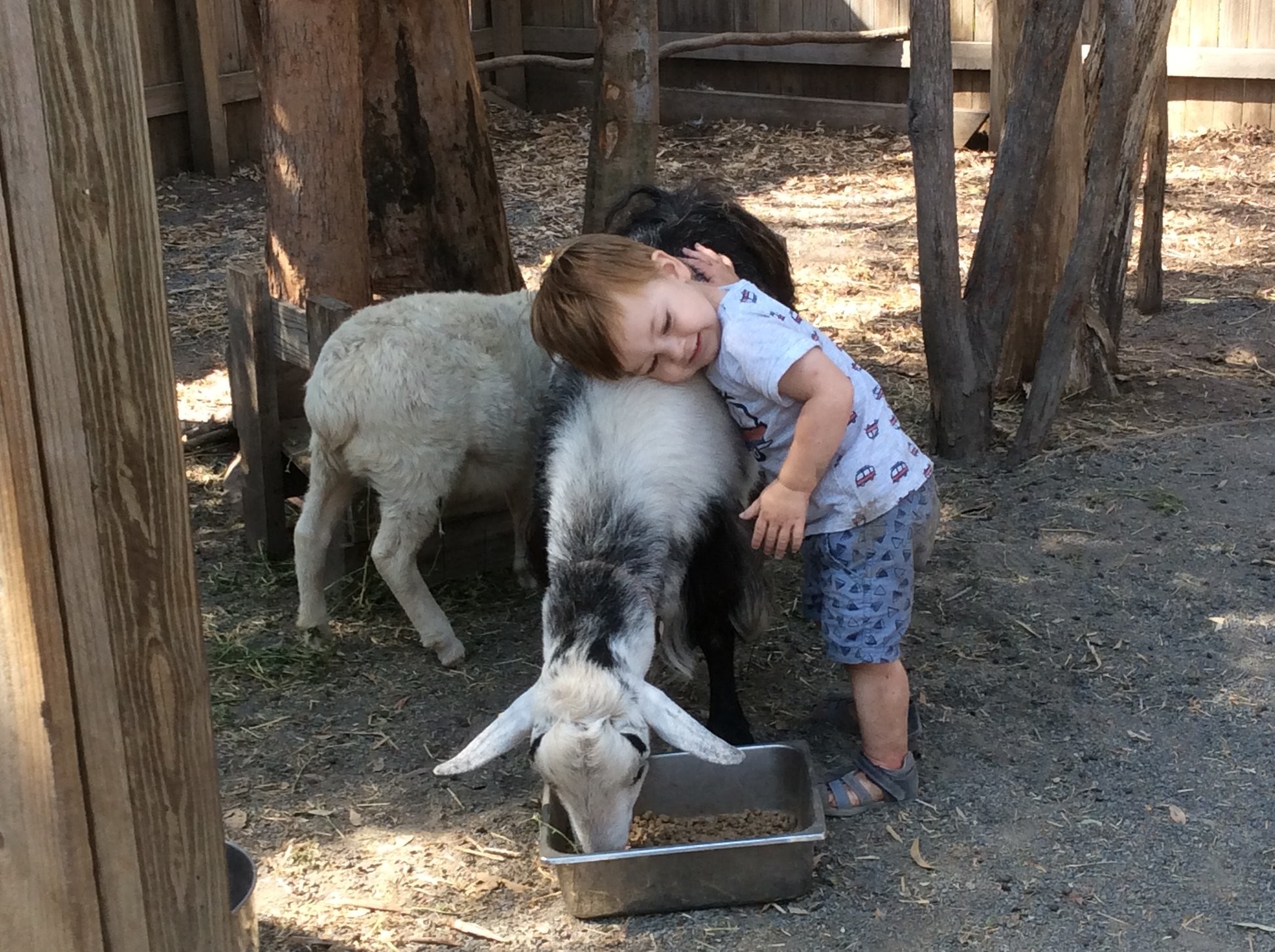 Image: Busy Bees at Fraser Coast
Children can truly thrive when allowed opportunities to explore natural environments and interactions with animals. In an Early Learning setting, children have opportunities to experience animal encounters that they may not have at home.
Whether it's in the form of a permanent Service pet, a Bush Kinder program or temporary animal visits to the Service, children's experiences with animals in an Early Learning environment are varied and supported by Educators who build on them to create important learning experiences. Educators can use animals to guide and support children in learning sensitive lessons, such as the cycle of life and the importance of being kind to others.
Many of our Busy Bees Locations offer animal experiences for children in a way that supports their learning and role models appropriate behaviours and relationships with animals.
Educators model appropriate behaviours and support children during interactions with animals. Educators teach children about quiet observation, and how to handle and approach animals safely.
Children are supervised at all times during their interactions with Service pets
Educators model and enforce appropriate hygiene and safety practices, such as washing our hands before and after touching an animal.
Educators consider and respect the ages, skill level and preferences of individual children and provide appropriate experiences
Where the Service has a dedicated barnyard or farm on-site, we employ experienced farmers and rangers who are responsible for their care. Children are offered opportunities to assist in the daily care of the animals, closely supervised by Rangers and Educators.
Bush Kinder programs are offered where Services have suitable natural bushland nearby, where children are encouraged to safely explore and learn about the natural world in their own backyards.
The Service encourages visits from veterinary and wildlife experts, to help children learn about safety around animals and respect for our natural Australian wildlife
Educators build on the children's interest in animals to extend their learning about sustainability and caring for their environment
The Service consults appropriately with Families in regards to animal experiences and Service pets
Early Childhood Education settings are prime opportunities to nurture children's curiosity about animals and invite connections and involvement with the living world around us. The interactions and hands-on experiences that children have with animals promotes kindness and respect towards all living creatures, and allows for an exciting pathway into learning about the environment and the big wide world around us.