At Busy Bees, safeguarding is not just a policy; it's a core value that guides everything we do. We are committed to creating a nurturing environment where your child can learn, grow, and thrive; knowing that their safety and well-being are our utmost priorities. Together, we can ensure a bright and secure future for your child.
At Busy Bees, we are dedicated to upholding the highest standards of care, safety, and early years education. We believe that every child deserves to live a life free from harm and abuse, as it is a fundamental right of every person. In this article, we want to share with you our unwavering commitment to safeguarding children and adults, and how we ensure their well-being in our care.
Our top priority is to create a safe and secure environment for all individuals under our care, whether they are adults, children, or young people who may be at risk of abuse.
Making safeguarding everyone's responsibility
We firmly believe that safeguarding is a collective effort. We strive to raise awareness among our staff, parents, and the community, making safeguarding everyone's responsibility.
Busy Bees supports community awareness by being a proud sponsor of Bravehearts — a leading organisation dedicated to child protection and safety — and their annual events: Bravehearts' Day, the Bravehearts Ball and Bravehearts 777 Marathon. Our Pedagogy and Compliance team collaborate closely with Bravehearts to further enhance our commitment to child protection. This partnership allows us to strengthen our training efforts, ensuring that our staff are well-equipped to safeguard and nurture the children in our care.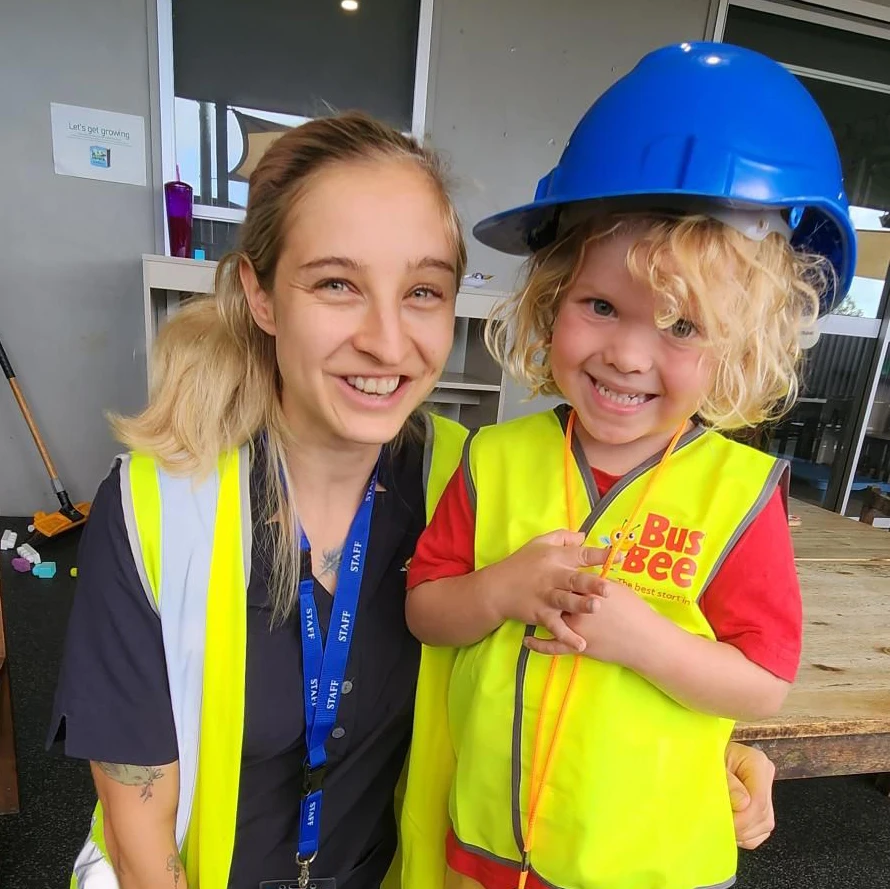 Junior Workplace Health and Safety Officer at Busy Bees at Coorparoo (Queensland)
Busy Bees has a safeguarding strategy which supports our global safeguarding commitment, setting a minimum standard relating to policies, processes and practises in place. By appointing Designated Safeguarding Leads at each Service this strategy is supported with ongoing training and best practise at Services and within the local community.
Fostering the best safeguarding practices
We are dedicated to encouraging, embedding, and maintaining the best safeguarding practices across our entire organisation. This commitment ensures that your child receives the highest level of care and protection.
We are committed to continuous improvement, aligning our practices with national and state-based policies to provide the best possible care and support.
Robust monitoring systems
To ensure quality and safety, we have implemented robust and auditable monitoring systems and dashboards that allow us to effectively track and evaluate our safeguarding efforts. Our compliance software effectively manages quarterly safeguarding and compliance audits which seamlessly feeds relevant data into interactive dashboards accessible throughout our entire organisation and network of Services.
Within the Busy Bees organisational structure, we have dedicated Pedagogy and Compliance officers who work in close collaboration with our Service Managers, Educators, and Operations team. This collaborative approach ensures that safeguarding efforts are not only monitored but also continuously strengthened, allowing us to provide the best care and protection for every child in our care.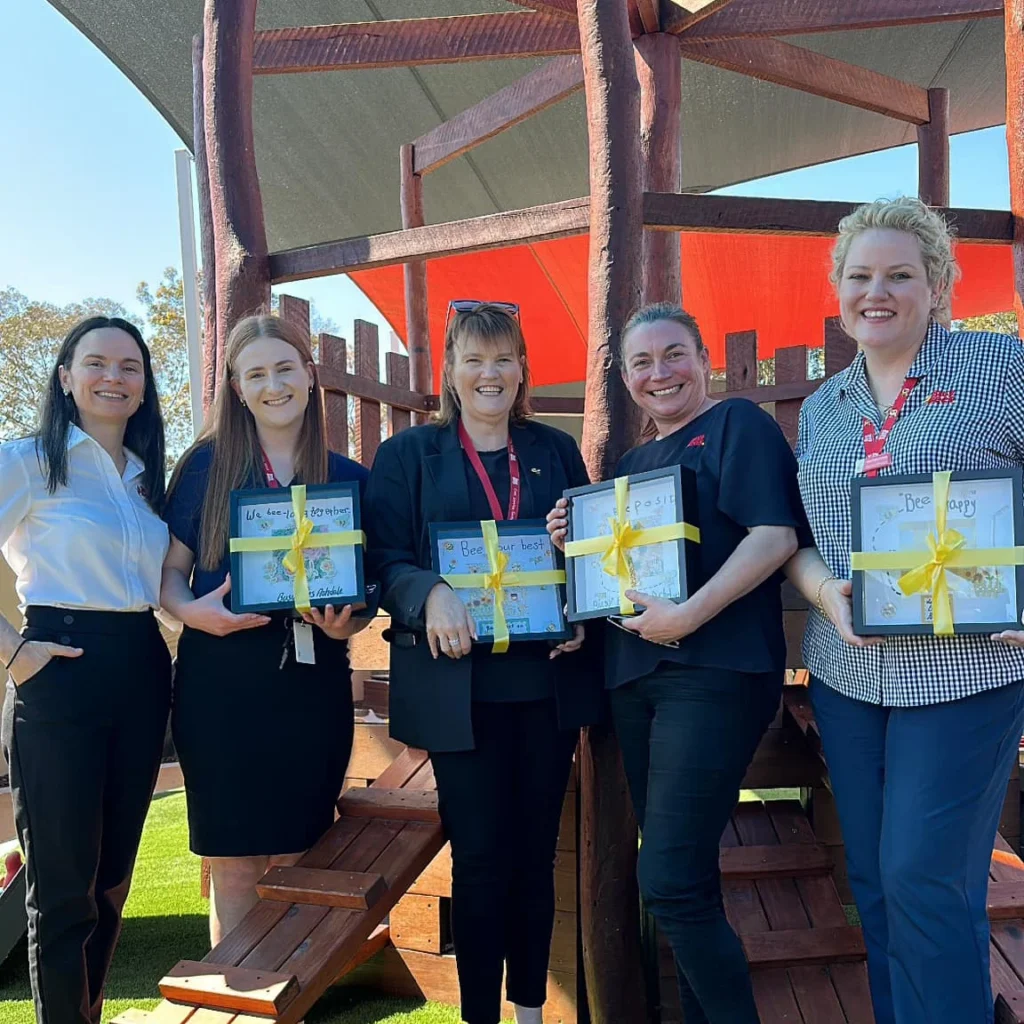 Busy Bees on Ashdale (Western Australia) Service Manager Lily Jankovska, Pedagogy & Compliance Partner Chloe, Chief Pedagogy and Safeguarding Officer Fiona Alston, Area Manager Ebony Richter, Regional Manager Amanda James.
We take lessons learned from sector case reviews and significant inquiries at both local and national levels within the sector and embed them into our procedures. This proactive approach enhances our safeguarding practices.
Multi-agency collaboration
We actively participate in multi-agency approaches, collaborating with statutory agencies and regulatory bodies to safeguard and promote the well-being of all individuals at risk of harm or abuse.
Additionally, we work closely with esteemed organisations like Bravehearts, attend conferences, and participate in professional development programs conducted by NAPCAN. These partnerships and initiatives empower us to stay informed about the latest best practices and advancements in safeguarding, enabling us to provide the highest level of protection and support to those who need it most.
Busy Bees is a proud partner of Bravehearts, an organisation dedicated to empowering children and protecting their innocence. This collaboration reflects our unwavering commitment to creating a safe and nurturing environment for every child in our care.
Bravehearts supported the launch of our sector-leading interactive Child Protection and Safeguarding learning program completed by all Busy Bees employee on commencement and annually. They further support us with resources and strategies for best-practice programming, prevention and safe environments.
Our children have the opportunity to enjoy Ditto's Keep Safe Adventure Show, which teaches children personal safety skills and knowledge by using age-appropriate language, song and dance.
Safeguarding as a Standing Agenda Item
Safeguarding is a standing agenda item at all levels of our child-associated meetings, including supervisions, team meetings, and quality meetings.
We utilise information from compliance inspections to provide evidence of the quality of our provision and identify areas for improvement, ensuring that your child receives the best care possible.
Visit our Safeguarding web page to access Busy Bees Parent's guide to child protection book, tools and resources and child safe policies.