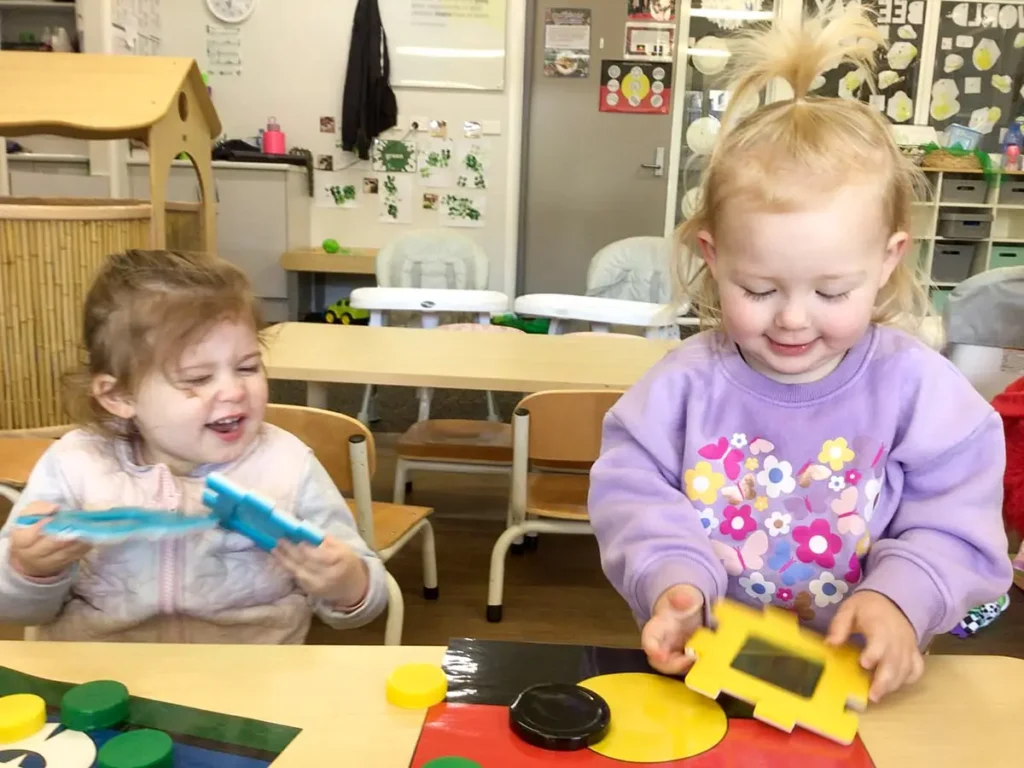 It is important for all Australian children, starting at a young age, to receive an education about our ancient land, and the vibrant and varied cultures of the First Nations people that still exist today.
In the spirit of reconciliation, all Busy Bees centres are encouraged to take continued action to create inclusive learning environments for all families. We caught up with Alex Nolan, Service Manager of Busy Bees at Cameron Park (New South Wales), to discuss how her passionate team of Educators has been embedding meaningful First Nations perspectives into their daily practice at the centre.
How have you incorporated an Acknowledgement of Country throughout the centre?
"At Busy Bees at Cameron Park, we are committed to building relationships with our local Awabakal community and incorporating Aboriginal and Torres Strait Islander perspectives. We value mutual respect, trust and inclusiveness as the foundation of these relationships. We have incorporated an Acknowledgement of Country where appropriate at significant events, during important occasions and as part of our daily routines in our Preschool environment. We also recognise the Kamilaroi people of our Educators and respectfully display an Acknowledgement of Country in our rooms for children, families and Educators to explore."
How do you ensure everyone is included in the development of the Reconciliation Action Plan (RAP) for your centre?
"We have engaged in Narragunnawali Reconciliation in Education learning since 2019. Our Educators are continuously engaging in professional development to incorporate Aboriginal and Torres Strait Islander perspectives into our teaching. The working group is expanding to include new voices from educators to better showcase their contributions. Assigned actions via the Reconciliation Action Plan working group are helping us achieve our collective and individual goals. We regularly reflect on how we explore Aboriginal and Torres Strait Islander perspectives during our monthly critical reflection sessions. These sessions include prompting questions to discuss different areas, such as relationships in the classroom, cultural responsiveness for staff, and respect around the school."
How do you provide experiences that are meaningful and not tokenistic?
"We have evolved over the past five years by exploring Aboriginal and Torres Strait Islander perspectives and connections within our childcare centre. Stories, images, colours and the 8 Ways of Learning have been thoughtfully embedded organically within our different learning spaces. Our team loves exploring the 8 Aboriginal Ways of Learning and connecting this to how we approach intentional teaching opportunities. We use it as a guide in supporting different learning styles and in using their symbols to communicate in different ways. We have moved away from tokenistic displays of Aboriginal and Torres Strait Islander perspectives to considering how First Nations perspectives can be explored in our natural rhythm of the day and through our learning opportunities."
Alex N. has also been referring to the Koori Curriculum to inspire and challenge her Educators to change their thinking and consider what steps they can take to explore a different point of view. The Koori Curriculum is an Aboriginal Early Childhood consultancy that supports Early Childhood Educators to grow their cultural confidence and capacity.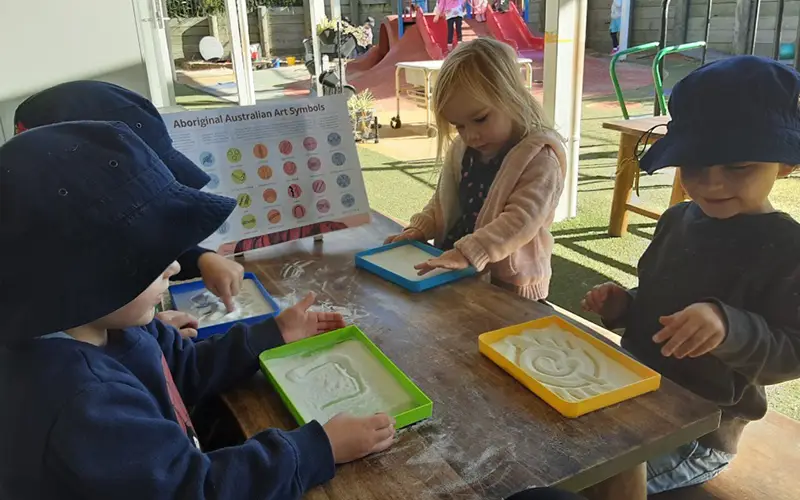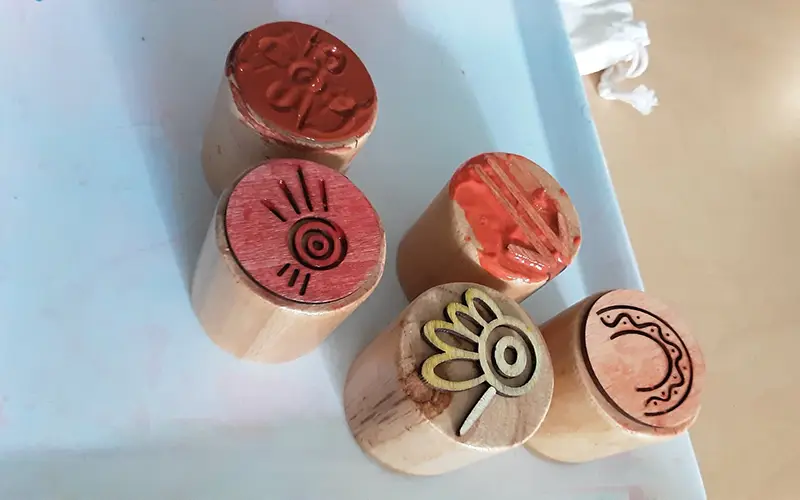 How do you ensure what you are implementing at your childcare centre is consistent with the local land you are on?
"We are grateful to have Educator Ty, a member of the Kamilaroi people, and our Educational Leader Kathryne, who act as advocates for cultural understanding and community engagement. Ty is a valuable asset with strong connections to the local Aboriginal community and a wealth of knowledge about their traditions. Ty is committed to incorporating Aboriginal and Torres Strait Islander perspectives in a respectful and meaningful way. Teacher Kathryne has been leading our efforts to build relationships with the local community for the past five years. She has established connections with local groups and has engaged with Aboriginal and Torres Strait Islander families to bring their expertise to our community at Busy Bees at Cameron Park. We participate in events like Reconciliation Week and NAIDOC Week, and we have collaborated with local community groups to include meaningful moments in our centre."
In the spirit of reconciliation, Busy Bees Early Learning acknowledges the Traditional Custodians of the country throughout Australia and recognises First Nations peoples' continued cultural and spiritual connections to land, sea, sky and community. We pay our respects to Elders past, present and emerging, and extend that respect to all Aboriginal and Torres Strait Islander peoples today.
Busy Bees welcomes your family to tour every day of the year. Find your nearest centre and give us a Buzz or book a tour online.
Are you an education superhero looking to inspire the next generation of lifelong learners? Whether you're an experienced Educator or looking to start or change your career, we'd love to talk to you about joining our Hive.