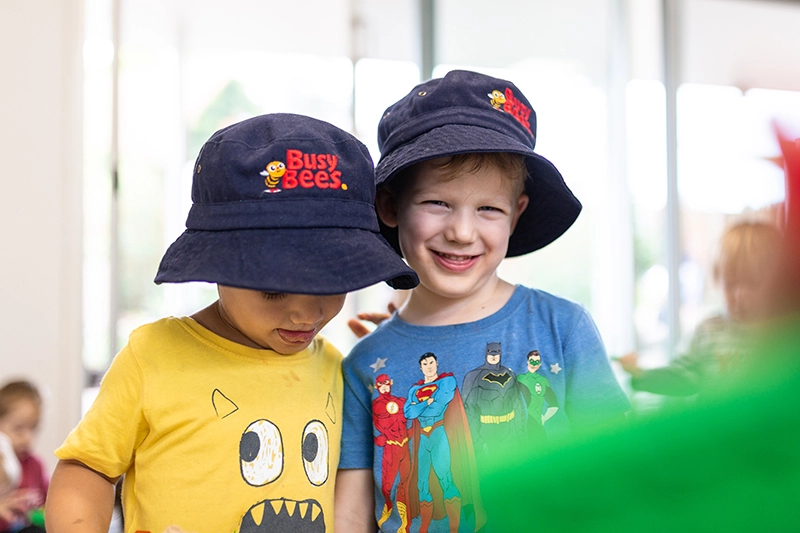 Photo: Busy Bees at Burpengary East
At Busy Bees, we understand that the transition to school is a huge milestone in a child's learning journey and believe that successful transition to school begins in early childhood education, at each of our Busy Bees Services and is a collaboration between a child's Educator, their guardians and each individual child's needs.
If your child has recently graduated from Busy Bees Kindergarten this is wonderful news! Our Foundations and Researchers learning programs follows a Government Approved Kindergarten framework focused on exploration and discovery. This means that throughout the year, our amazing Educators have been running an exceptional educational program that has allowed each Busy Bees Foundations and Researchers child to experience a stimulating approach to learning that is challenging, insightful and consultative, giving them a head start as they prepare to take their next big step to school.
Transition to School Programs
At Busy Bees, we believe in beginning preparation for transition to school at the beginning of the year. While our Educators help facilitate cognitive development they also have a strong focus on well-being to help prepare children care for themselves and their belongings, feel confident to ask for help when needed, follow directions, have resilience to cope with change and conflict, and build adequate self-help skills.
Some of the transition to school experiences that our Busy Bees Services incorporate in our learning programs are:
Lunch box days – to support motor skills with opening packets and containers.
School themed dramatic play areas – to help children act out their expectations of school.
Opportunities to practice self-help skills – supporting children with caring for belongings, fastening clothes and toileting.
Development of literacy and numeracy – supporting children to develop literacy and numeracy skills through everyday play activities.
Development of fine motor skills – supporting children to develop fine motor skills through everyday play activities.
Supporting Your Child's Transition to School
Starting Block have compiled a list of suggestions to help parents and guardians support children to settle comfortably and confidently into school. Some examples are:
Say goodbye confidently – a confident goodbye helps children to feel secure and reassured that you trust they will be okay at school.
Label your child's belongings – helps reduce anxiety and assists children in looking after their belongings.
Communicate with your child – giving your child an overview of what may be happening at school that day and discussing their day to find out how they are feeling helps build their confidence.
Avoid overloading your child – children tire easily as they adjust to school and their new routine. While children are transitioning try to limit the amount of extra activities they are involved in outside of school.
We believe that quality Early Learning does more than just prepare children for school – it builds resilience, vital social skills and independence. Enrolling your child in a Busy Bees Kindergarten program can make the transition from early learning to school a lot more comfortable for everyone involved, but most importantly will help build a child's confidence and excitement for their future in education.
Thinking of enrolling your child? Book a tour of your nearest Busy Bees Service today.