"Young children explore their world with all of their senses, through hands on experiences they see their evolving creations, the colours, the patterns, they feel the textures of the materials; the soft petals, the rough bark, smooth stones, and smell the fragrant leaves and flowers." – NaturePlay Qld
Many contemporary theories in Early Childhood Education recognise and value the environment as a "third teacher" in supporting children's learning. The physical environment is critical to contributing to children's wellbeing, creativity and developing independence, providing a diverse range of experiences that promote children's learning and development.
Educators will intentionally create, change and mould learning environments that spark children's interest in ways that foster connections, encourage social play, support children's agency and invite children to delve deeper, investigate and learn through a range of mediums.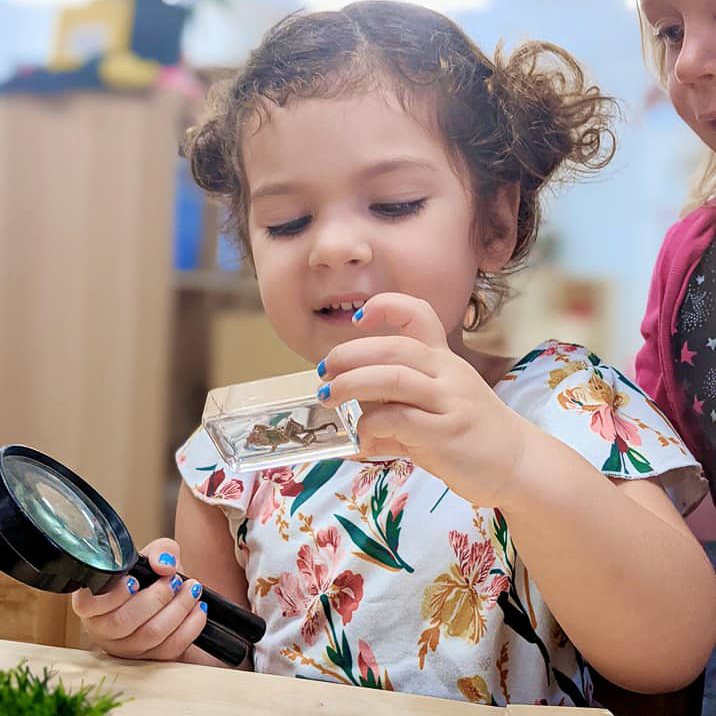 Photo: investigating insects and bugs at Busy Bees at Maroochydore (QLD)
Natural resources, with their complexity in shapes, textures and colours, are a perfect medium for use in loose parts play as they provide so many possibilities for discovery, inventiveness and creativity.   Magic happens when children engage in loose parts play with natural resources. This type of play is open-ended, allowing children to decide the purpose of an item, rather than and adult or manufacturer. This may be as simple as using a block of wood as a phone, buttons as money, or shells as fairy treasure. Children are empowered creatively with the presence of open-ended materials that could be constructed, manipulated and transformed through self-directed play. (Steve Watts, The Importance of Loose Parts Play)
The benefits of using natural resources in children's play include:
Creativity – Natural materials stimulate creativity and imagination by providing children with open-ended play experiences
Sensory exploration – Children can explore natural materials with all of their senses, e.g. feeling the texture of the pinecone, smelling a flower, observing all the different colours and textures that are abundant in nature
Environmental Awareness – Engaging with natural resources supports children to care for natural environments and develop respect for living things. Using flowers, shells, stones, fabric, baskets, art prints and other materials in the curriculum helps children to learn to appreciate natural beauty. (Quality Area 3 | The Environment as the Third Teacher)
Imagination and problem solving – Natural resources have infinite uses in supporting children's problem solving, scientific inquiry and numeracy skills. For example, children can group them by size, shape or colour, use textures to create stamps on paper, count how many of each item they have, explore which items sink and float in water etc.
Resourcefulness – Natural resources allow children to be resourceful and sustainable through finding ways to recycle, re-use and repurpose items in their play. This provides opportunities for children to problem solve and be creative in ways that develop their respect for the environment and thoughtful use of limited natural resources and sustainability (Quality Area 3 | The Environment as the Third Teacher)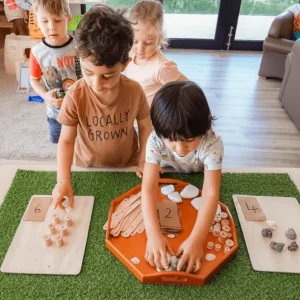 Photo: the children at Busy Bees at Williams Landing (VIC) use natural resources to explore numeracy
At Busy Bees, our Services provide many opportunities for children to engage in loose parts play with natural resources. Our Educators create inclusive and engaging natural learning environments, both indoors and outdoors, that inspire children to explore, create, play together and ignite their imaginations and sense of discovery.
We do this in a number of ways, including:
The inclusion of natural materials in play
Loose parts play
Engaging in natural environments
Access to natural and living things
Caring for animals within the service
Bush Kinder programs
Want to know how your nearest Busy Bees Service supports children's environmental education? Speak to your Service manager or find your nearest location to enquire.
Sources:
https://natureplayqld.org.au/acecqa-nature-play-and-bush-kindy-resources
https://blog.optimus-education.com/using-natural-materials-enhance-children%27s-learning