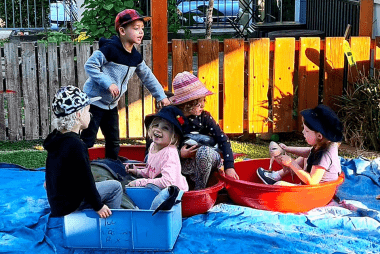 Photo: Busy Bees on Maroochy
"Every child is born blessed with a vivid imagination" – Walt Disney
There's nothing quite like the magic of a child's imagination. Where a walk on the beach turns into a hunt for Pirate treasure, a bed becomes a sail boat surrounded by hungry sharks in the ocean, a backyard tent turns into a grand palace fit for a Prince or Princess, and where an outdoor swing transforms a child into a flying Superhero.
Pretend play scenarios can create a fun and unique experience for children to play freely in a special world made up of endless possibilities. While some may consider these moments just "play time", studies have shown that imaginative and sociodramatic play is important for a child's development and can help children build on their social skills and identity.
"Play provides opportunities for children to learn, as they discover, create, improvise and imagine. Children's immersion in their play illustrates how play enables them to simply enjoy being"  – Early Years Learning Framework p17, ACECQA
Imaginative play can be described as an act of role-play where a child draws upon their imagination based on previous knowledge and experience to explore new ideas, materials and scenarios. During imaginative play, children may be a different character, transform materials into new objects or find themselves in a new world creating their own stories.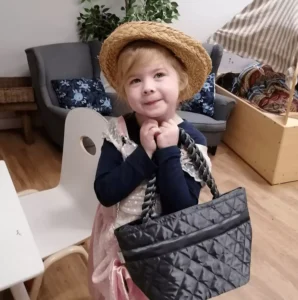 Photo: Busy Bees at Bellmere
Sociodramatic play is where children share imaginative play. As E.P. Fisher suggested in 1992, sociodramatic play can help children to develop their cognitive language and social-emotional functioning.
A growing body of research shows that children who engage in imaginative play are more likely to be future creative thinkers.  Many studies have found that children who showed more imagination and emotion in their play are, in general, better divergent thinkers, which is associated with higher creative thinking abilities.
The importance of imagination and creativity has long been encouraged throughout history by the likes of Walt Disney, Albert Einstein and Leonardo da Vinci just to name a few. Celebrated Russian Psychologist, Lev Vygotsky recognised imaginative play as a "leading factor in development" and believed imagination created action.
Lev Vygotsky said, "A child's greatest achievements are possible in play, achievements that tomorrow will become her basic level of real action." His work and findings on imagination and creativity have influenced Early Childhood Education both in Australia and Internationally.
The Australian Early Years Learning Framework  is a key component of the National Quality Framework for Early Childhood Education and Care. It offers a vision where "all children experience learning that is engaging and builds success for life" and recognises the importance of imagination and creativity to help children become confident and involved learners.
At Busy Bees Australia, we value every child's unique interests and ideas and our Educators encourage children to draw on their curiosity, creativity, intuition and imagination to help them improvise in a way that suits the time, place and context of their learning. Doing so provides an opportunity for children to explore, solve problems, create and instruct in a safe environment.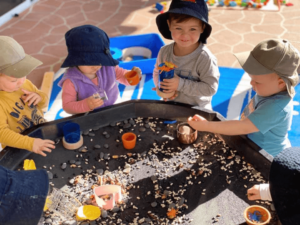 Our Educators also encourage the use of Loose Parts Play and open ended materials to support creativity and imaginative play throughout our Services. The key is providing open ended materials that do not limit a child's imagination and provide opportunities to explore their own interests. For example, a recycled box may become a garage for cars, a stick may become a wand or a scarf may become a bandana for a ninja. Early Learning Consultant, Alastair Bryce-Clegg offers his ideas on 'deconstructed role play' which is also encouraged at Busy Bees and relies on a child's own experiences to foster play in a space where materials can be anything⁠—the possibilities are endless and are unique to each child.
With technology, devices and screen play taking up more time in our current world, sometimes it can be difficult getting children to enjoy the basics of "play". The Raising Children Network recognises the importance of imaginative play and provides a list of additional indoor and outdoor play ideas for Families and Caregivers to help encourage imagination in children.
Many of these activities create environments where parents and Families can participate in the fun of imaginative play. A Dad can be a daughter's superhero sidekick, an Aunty can explore the sights and sounds outside with their nephew or a grandmother can share stories about magical places and mystical creatures. Let's watch our children change the world by first exploring the world and their place in it!