Congratulations to Busy Bees at Gilles Plains (South Australia) and Busy Bees at Tamworth (New South Wales) for being awarded the Woolworths Junior Landcare Grant 2022!
The Woolworths Junior Landcare Grants program offers funding for Australian primary schools and early learning centres seeking to inspire the next generation of environmental champions. This year we are very proud to see two of our Busy Bees Services selected as recipients of the Grant thanks to their child-led curriculum that incorporates sustainability and environmental education for the children to embrace and enjoy. Last year saw the Grant being awarded to Busy Bees at Cameron Park Preston (New South Wales) and Busy Bees on Ashdale (Western Australia).
"Our project aims to grow and maintain an edible garden to teach children about sustainable food production and where our food comes from." said Anant Sohi, Service Manager of Busy Bees at Gilles Plains.
Busy Bees at Gilles Plains received a total of $1,000 that is being dedicated to building new garden beds, planting seeds and maintaining the new edible garden. The Services' outdoor area has become a hive of excitement with the children eager to help set up the garden beds. The first seeds and sprouts have now been planted, ready to be tended to and cared for by the curious and excited children and Educators each day.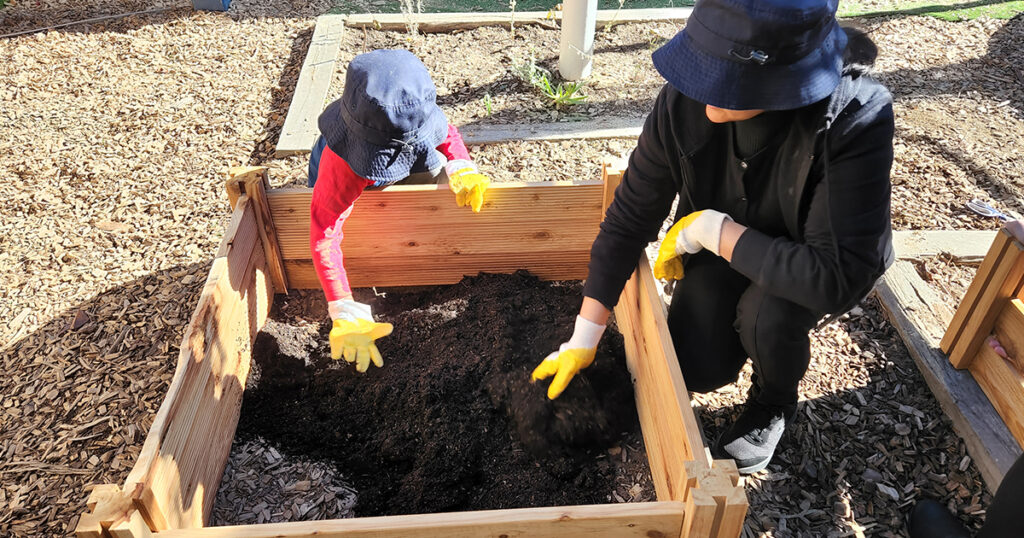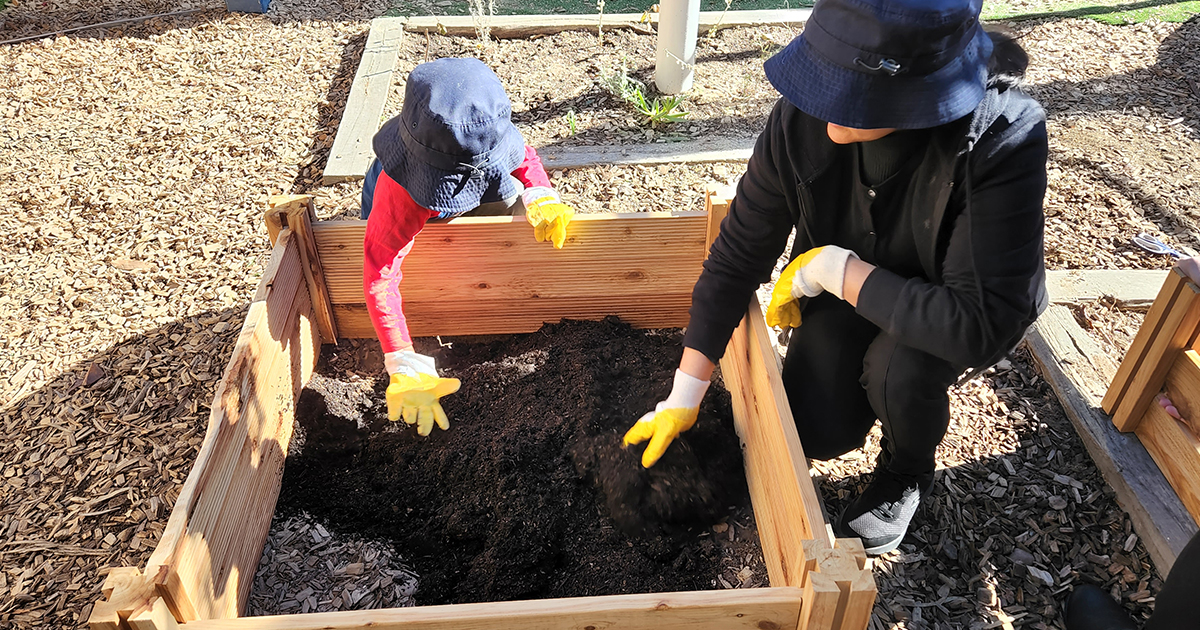 Children are endlessly fascinated by growing their own food, watching the edible garden develop. Our Educators always ensure the children are involved in every step. From preparing the garden beds to harvesting the produce, making delicious food and eating it! The idea of growing their own food sparks the children's curiosity and they look forward to the harvest. Stay tuned!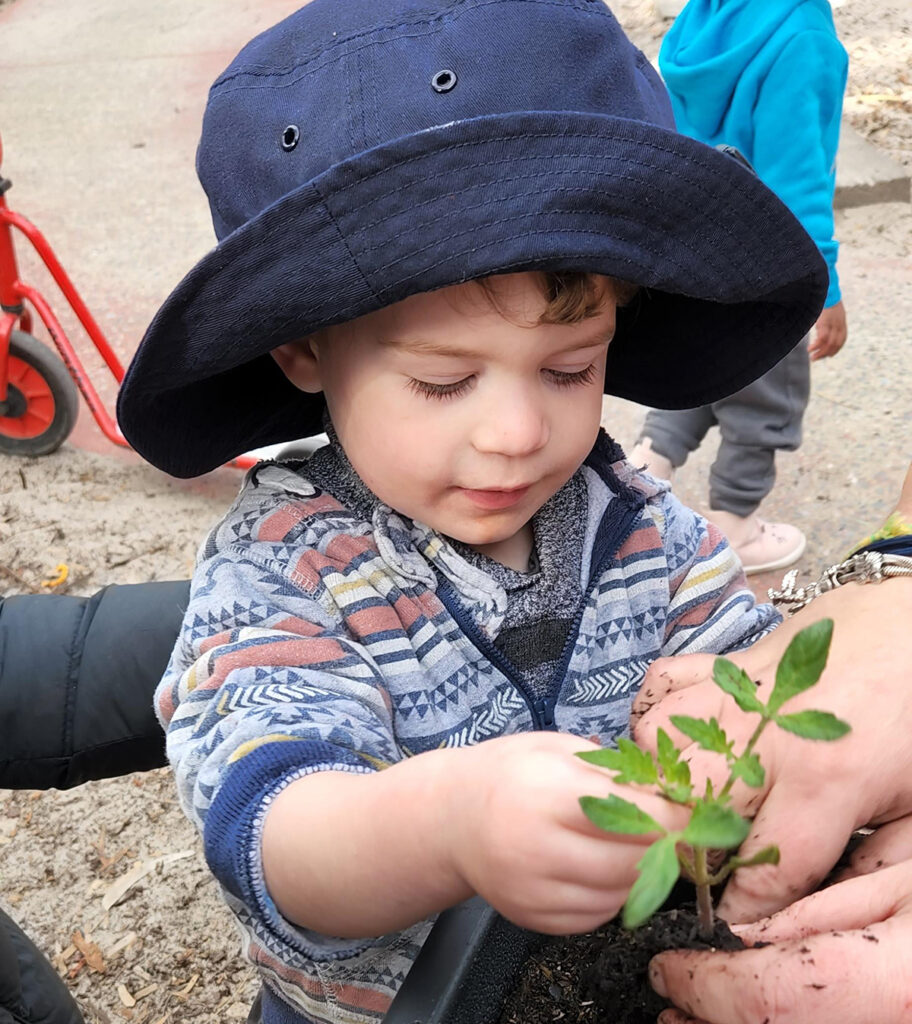 "It is important to teach children about sustainability from a young age through hands-on experiences for them to grasp an understanding of what is happening and how they can positively affect the world around them. This is how they become socially aware and show respect to our environment." said Surangi Fernando, Sustainability Leader of Busy Bees at Gilles Plains.
Children protect the things that they love. By teaching them how to care for the environment today, we give them the best start in life.
New garden beds were delivered to Busy Bees at Tamworth and the children are very excited to start planting flowers and vegetables with the assistance of their Educators. The Service received a $1,000 grant to work on a composting system with a worm farm.
"We hope to demonstrate with hands-on practice the cycle of growing plants, composting and retuning the scraps to fertilise our gardens." said Stephanie Byrnes, Service Manager of Busy Bees at Tamworth.
Our Educators love coming up with new projects to involve the children in different experiences. This most recent project, now supported by the Woolworths Junior Landcare Grant, will also have the children out in the community as they go on excursions to shop for the worm farm, compost and native plants.
"We understand that learning with young children is vital to their engagement and having them be active in the process is key!"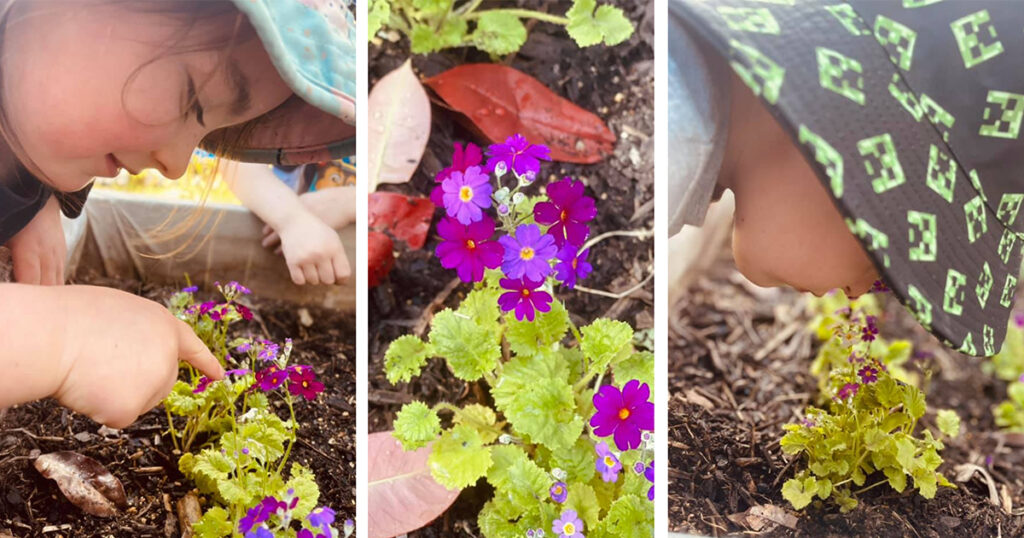 The first five years are very important in a child's life, the habits the children form as little ones will help the planet for decades to come. If they experience the outdoors as much as possible they will want to look after it without very much encouragement at all. At Busy Bees, we are proud to be building the environmental champions of tomorrow.
Busy Bees is committed to protecting our environment to ensure a sustainable future for our children. All Services incorporate sustainability and environmental education for children in everyday practice.
"Practicing sustainability empowers children to construct knowledge, explore values and develop an appreciation of the environment and its relationships to their worlds." said Melisa Arthur, Administrator of Busy Bees at Gilles Plains.
"It is important to us to instil all of this knowledge of the environment for our children to be able to have a positive impact on their world." said Jade Walters, Educational Leader at Busy Bees at Tamworth.
A sustainable early learning Service also role models sustainable practices within their daily operations. This may include developing sustainable policies around energy usage, water consumption, food waste and engagement with the local community.
Busy Bees at Cameron Park Preston was part of the Woolworths Junior Landcare Grant in 2021. Together, Educators and children successfully created an inviting garden for our beloved bees to come to find pollen. The children helped grow vegetables and created a bush tucker garden with native plants to help attract native bees!
"Our philosophy encourages children to develop a love for our Earth, we want children to understand their role in protecting our Earth." said Ashton Meadows, Service Manager at Busy Bees at Cameron Park Preston.
It is wonderful to see the results of the project and reflect on all the learning that resulted from this experience. The children love the environment and they are always happy to help around the garden. We look forward to seeing the end results of the project of Busy Bees at Gilles Plains and Busy Bees at Tamworth.
How do the children get involved with sustainability practices at your Service?
"We like using recycled materials that are donated to our Service by the community and families. Children and Educators also make their own papers and seed paper for gifts." said Melisa Arthur.
"The children are involved in gardening in our Service. We also like to use natural resources in our play from birth which is a great opportunity for the children to explore natural resources." said Ashton Meadows.
What advice would you offer to other schools or centres that are wanting to hero sustainability practices but don't know how to start?
"We suggest starting with what the children know. Learn together and involve them as much as possible. Follow their lead and make it a part of your routine. Harness their intrinsic motivation to learn and run with it!" said Jade Walters.
"Start a little garden and train your Educators on discussing sustainable practices within your Service. Starting a conversation on what children do at home with sustainability is also a great way to get them thinking." said Melisa Arthur.
"Start small, introduce one new practice and once that is a habit introduce another. Even if you think your small habit won't make a difference, if everyone does one small habit that's many habits that are helping to look after the planet." said Ashton Meadows.
Thank you to Landcare Australia and Woolworths for their support through the Woolworths Junior Landcare Grant programs. We're thrilled to see our Services thrive with new projects on sustainability, ensuring they give the children the best start in life.
Each Busy Bees Service has created its own Busy Bees Environmental Commitment Statement to ensure that, as a whole, Busy Bees is working toward providing a cleaner and healthier future for all of our stakeholders while supporting sustainability. To find out more about how Busy Bees supports the environment, contact your nearest Service.