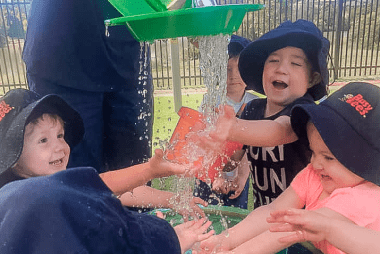 Image: Busy Bees at Heritage Parc
With the weather heating up, it's the perfect time to get outside and explore, and there's nothing more fun than spending time splashing and frolicking in the water on a hot day!
Playing with water not only keeps your child feeling cool and having fun, but you may be surprised to learn that water play has so many amazing benefits for childhood development, making it one of the most popular activities in early childhood education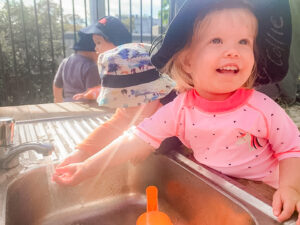 Image: Busy Bees at Everton
What is Water Play?
As the name suggests, water play is play that involves water as well as using tools such as buckets, containers, and toys etc. that allow children to splash, scoop, pour, submerge and explore their senses.
Water play in Early Learning settings usually involves a water table or large tub that children can stand around while engaging in their play. This makes for an exciting and social experience for children as they splash, play and have fun together.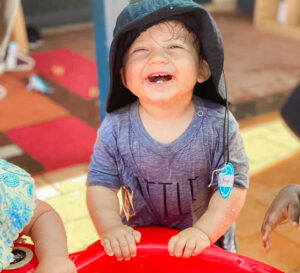 Image: Busy Bees at Kalgoorlie
5 Benefits of Water Play for Your Child's Development
In Early Learning, we acknowledge the environment as a teacher. When children engage with their environment and use natural resources in their play, they are building their sense of understanding of the world and their place in it, while also building their understanding of their own abilities to affect and influence things. Water play is both fun and educational and has a range of benefits for your child's social and emotional development, as well as developing their physical abilities and early literacy and numeracy skills. As an added bonus, children rarely get bored of it!
1. Water play develops hand-eye coordination
Water play is a fantastic activity for developing children's hand-eye coordination as they learn to pour, squeeze, stir and even paint with water. For example, through pouring water from one bucket to another, or learning how to control the direction and size of a splash, children are improving their sense of accuracy and control.
 2. Water play introduces maths and scientific concepts
Water is the perfect medium for demonstrating mathematical and scientific concepts, such as volume and weight. How much water do you think could fit in this bucket? Can we measure it? What do you think will happen if we drop this heavy object into the bucket?
According to Early Childhood News, as children manipulate water play materials, they build their scientific enquiry and problem solving skills, as they begin to understand why and how things happen. For example, a child may notice that one object sinks in the water and another object floats, which prompts them to add more objects to the water to see what happens. As they continue to investigate which objects sink and float, a child will soon discover that a heavier object sinks, while lighter objects float, no matter how big or small they are.
Water play can also be used to develop children's literacy and numeracy, such as counting how many buckets of water it takes to fill a tub, or using water and a brush to write and draw.
3. Water play enhances concentration and focus
Have you ever found your child completely immersed in an experience? When children are engaged in water play, they tend to lose themselves in the activity and can spend long periods of time exploring and playing. This can encourage children to focus, and any activity that holds a child's attention for a long length of time will contribute to increasing their attention span and ability to concentrate later in life.
This is a particular benefit for formal learning. As your child prepares to begin school, being able to concentrate in a classroom will become a vital skill.
4. Water play develops motor skills and sensory exploration
Water play activities help to develop and strengthen children's gross and fine motor skills. Children enhance their gross motor skills, coordination and physical fitness through lifting, pouring, carrying, running and splashing, while actions such as squeezing help to develop the small muscles in a child's hands.
Water play also provides children with so many opportunities to explore their senses and experience different sensory experiences. Adding materials like sand, ice, soap or slime to water allows children to put their hands in different textures (gritty, squishy, slippery and slimy) as well as experience different temperatures (warm, cool, cold.)
5. Water play builds social and communication skills
Water play can be a solitary activity, but children find it particularly exciting to engage in as a group. When water play becomes a group activity, it encourages children to engage in social and cooperative play. It's not uncommon to observe Kindergarten children, for example, turn their water play into a shared experience with a common goal. For example, children may embark on a mission to fill a large tub with water from the water pump, or build a moat in the sandpit, or take turns jumping into the water to see who can make the biggest splash. In these play experiences, every child has a role to play and contributes to the ultimate goal.
Through this kind of play, children have the opportunity to see what happens when the sharing of materials and ideas takes place.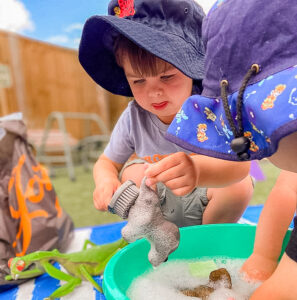 Image: Busy Bees at Burpengary East
Enjoying Water Play at Home
If your child attends a Busy Bees Early Learning Service, they are most likely experiencing water play while at care, but why not set up a fun water play station at home as well?
Setting up water play at home can be an incredibly easy and rewarding experience. There are no rules; all you need is water and some form of container, and some tools and utensils.
Some examples of materials you can incorporate in water play are:
Cups and containers of different sizes
Spades and buckets
Toys and objects that will sink or float
Funnels, bottles or eye droppers that can be used to transfer water between containers
Natural materials such as sand, flowers, leaves and pebbles
Squeeze bottles
Paint brushes
Sieves or containers with holes
Download our activity card for a fun water experience for babies and toddlers.